"One of the beautiful things"
Jean Trebek Shares Touching Memory From Alex Trebek's Final Days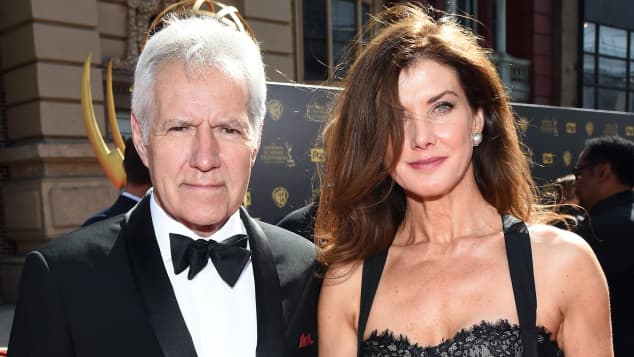 view gallery
(© Getty Images)
Jean Trebek is speaking out after she lost her husband of 30 years, Alex Trebek, late last year. Jean, who married the beloved Jeopardy! host in 1990, has a new interview airing next month and, in a first preview, she shared a special memory about her husband. Trebek passed away in November at the age of 80 after a battle with pancreatic cancer.
Jean Trebek has shared a touching memory from Alex Trebek's final days.
The Jeopardy! host passed away at age 80 last November, and his widow Jean is now opening up about the loss in an interview with Today. The talk will premiere on May 1, but a preview was released today in which Jean named "one of the beautiful things" that happened before her husband's death.
Jean Trebek: Alex got to "witness all the love" before he died 
In the new clip, Today host Savannah Guthrie asked Trebek if she was surprised to learn just how much her husband meant to so many people. "Yes, I was, and I think Alex was too," Jean answered.
She continued, "I think one of the beautiful things, the blessings that came, if you can call it a blessing, was that he got to really see the outpouring of love and admiration that he gave to the world.
"And some people just, you know, you don't see that while you're still embodied, you don't get to really witness all the love that people feel for you," she added. "And I know that that was, in and of itself, a huge inspiration for Alex."
"He got to really see the outpouring of love."

Jean Trebek talks to @SavannahGuthrie about her late husband Alex Trebek. Catch the full interview during the special prime-time event "Inspiring America," which airs Saturday, May 1 at 8 p.m. ET on NBC and Telemundo. pic.twitter.com/BdjN5W4QFG

— TODAY (@TODAYshow) April 28, 2021
Jean, 56, spoke to Today for the upcoming Inspiring America broadcast that will air on NBC on May 1. She was Alex Trebek's second wife and they celebrated their 30th wedding anniversary just a few months before he passed on in November 2020.
The Jeopardy! host had chronicled his treatment for pancreatic cancer, giving fans occasional health updates before he died after a two-year battle with the disease. He continued to film Jeopardy! around his treatment, and Trebek's final episode of the show aired in December.
Jeopardy! is currently airing with guest hosts, who have included NFLer Aaron Rodgers and Katie Couric.