She wanted to properly honour the NBA star
Alicia Keys Reveals How Hard It Was To Host The 2020 GRAMMYs Just Hours After Learning About Kobe Bryant's Death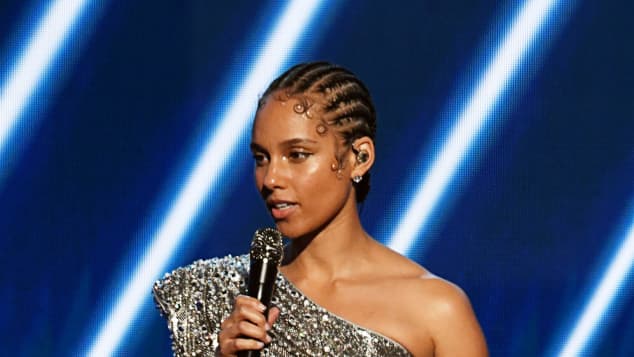 view gallery
(© Getty Images)
Alicia Keys hosted the 2020 GRAMMY Awards last weekend and paid tribute to the late basketball legend Kobe Bryant. She opened up about how hard it was for her to host the event just hours after learning about the NBA star's death. 
During an appearance on The Ellen DeGeneres Show, Alicia Keys opened up about hosting the 2020 GRAMMY Awards, just a couple of hours after learning about NBA star Kobe Bryant's death. The musician and songwriter was joined by Nathan Morris, Wanya Morris, and Shawn Stockman of Boyz II Men, to perform the song "It's So Hard to say Goodbye to Yesterday," in honour to the late basketball player at the event.
It was not an easy task indeed. 
(© Getty Images)
Alicia Keys wanted to properly honour the basketball legend Kobe Bryant
The "Fallin'" singer told Ellen DeGeneres that no one could believe what had happened, "It was definitely a crazy feeling because literally minutes before we were going to do something else and we had to really figure out how could we properly honour him in his house on this night." The 2020 GRAMMY Awards took place at Staples Center, home to Los Angeles Lakers, Kobe Bryant's longtime basketball team.
(© Getty Images)
Alicia Keys and Boyz II Men paid tribute to Kobe Bryant
Alicia Keys continued, "It just so happened Boyz II Men was there already that night. It was like that magic that happens when it's necessary." Then she added she felt very honoured to be able to share that with the audience, "that we could go through something that hurt so bad together."
IN CASE YOU MISSED IT: This is the full list of the 2020 GRAMMY Awards winners
Alicia Keys will release her new album Alicia in March. She performed one of her new songs "Underdog" at the 2020 GRAMMY Awards.