Chrissy and John lost their son in September
Chrissy Teigen Reveals Tattoo In Memory Of Late Son Jack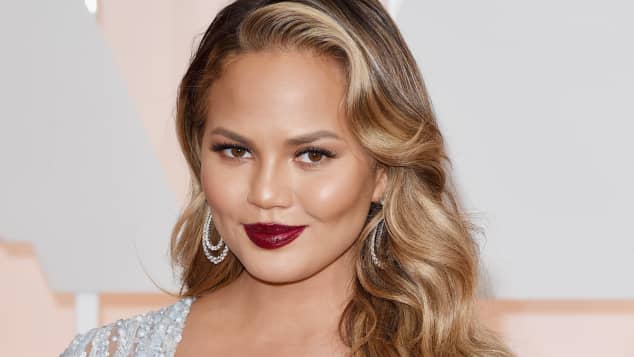 view gallery
(© Getty Images)
Chrissy Teigen has revealed a tattoo memorializing her pregnancy loss in September. She and John Legend shared that the baby boy's name was Jack—and she's now honoured him with this poignant new tribute. Read on to see the picture she shared, revealing the wrist tattoo while hand-in-hand with her husband. The couple shares two children together, but baby no. 3 was tragically lost 20 weeks into Teigen's pregnancy.
It's now been just over one month since Chrissy Teigen and John Legend suffered the tragic pregnancy loss of their son, Jack.
The couple has since taken steps in the mourning process, with Teigen penning an essay on the experience, and she and Legend returning to social media and live performances in recent weeks. Now, on Saturday night, Teigen revealed a new tribute to Jack, in the form of a tattoo on her wrist.
Chrissy Teigen reveals tattoo honouring son Jack
On Saturday, Teigen shared with followers a few views of her "date night" with Legend. She started by joking in a video about her "naturally frowny mouth," despite her tendency to "laugh and smile" on the regular.
Teigen then added a captionless photo of her and Legend hand-in-hand, displaying the poignant new tattoo honouring Jack—written delicately in lower-case cursive.
November 1, 2020
Chrissy Teigen and John Legend's family tattoos
Also seen in the "Jack" tattoo picture is the edge of Teigen's family tattoo, which reads "John - Luna - Miles." According to People, Legend is inked with the same tattoo, but with his wife's name in place of his own. Daughter Luna, 4, is the couple's eldest, while son Miles, 2, was born in 2018.
Sadly, back on Sept. 30, Teigen and Legend shared news of their loss at 20-weeks pregnant with son Jack, who would've been their third child. They chronicled the heartbreaking story on social media, receiving an outpouring of love in the days and weeks that have followed.