Did You Know Eugene Levy's Family Also Starred In 'Schitt's Creek'?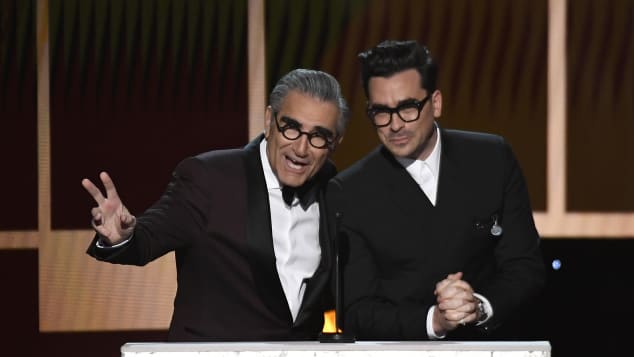 view gallery
(© Getty Images)
Eugene Levy is best known for his roles in American Pie and Emmy-winning Schitt's Creek, but did you know that his family starred alongside the famed actor? Take a look at the Eugene Levy family tree right here! 
Eugene Levy's family is just as noteworthy as him when it comes to acting. The Canadian family starred in the award-winning Schitt's Creek - minus Eugene's wife! 
Did You Know Eugene Levy's Family Also Starred In Schitt's Creek?
Eugene's family is also a talented bunch! His son, Dan, and his daughter, Sarah, were all a part of the Schitt's Creek crew. The series, which aired from January 13, 2015, to April 7, 2020, has won multiple awards over the course of its 6 seasons. 
Eugene and his wife, Deborah Devine raised their two children in Toronto, Canada, so they could have "normal lives," Eugene told People. Eugene, himself, had been in the entertainment industry since the '70s! 
As Dan got older, he ended up pursuing a career in film production through his university studies... and probably with some help from his father. He even hosted many shows and events on MTV Canada. 
Sarah also went to university to study further into the art of acting. She attended Dalhousie University and majored in theatre. Naturally, this family had the acting genes in them from the start!
It was actually Dan who had the idea for Schitt's Creek, approaching his father with the idea to have a comedy series where a very wealthy family ends up losing everything and must deal with those circumstances. During the Netflix documentary, Best Wishes, Warmest Regards: A Schitt's Creek Farewell, Dan commented he wanted this series to be different through the gleefulness of the characters. After getting his dad on-board, they then got Sarah and Catherine O'Hara on board, too! 
The Levy Family on Working Together
Believe it or not, the Levy's also love working together! In a 2015 interview with Jimmy Fallon, Dan also stated how "it's pretty damn cool to work with your son." And during Dan's acceptance for his Emmy for Best Writing in a Comedy Series, he sweetly stated towards his father: "I wouldn't be here if it weren't for you." 
Eugene returned the gesture to his kids as he, too, accepted an Emmy award for Best Actor in a Comedy Series: "As a dad, getting to work on camera for six years with both my kids, Daniel and Sarah, is such a joy and I couldn't be prouder." We're just wondering how to sign up to be apart of this awesome family! 
So far, here's just a few awards the family has won for Schitt's Creek: 
Emmy Award for Outstanding Supporting Actor In A Comedy Series - 2020
Emmy Award for Outstanding Casting For A Comedy Series - 2020
Emmy Award for Outstanding Writing For A Comedy Series - 2020
Of course, we'd love a season 7 of this iconic and hilarious show, but the castmates have stated over and over that they feel like it finished where it needed to end. Let's wait and see!