She served in the Army as a medic!
'Community': Meet John Oliver's Beautiful Wife Kate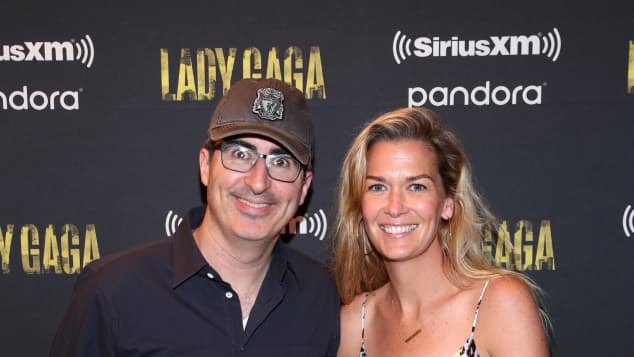 view gallery
(© Getty Images)
All TV fans know John Oliver from his role in Community and from hosting the popular HBO show Last Week Tonight with John Oliver. But do you know his beautiful wife Kate Norley? Let us introduce you to her right here!
British native John Oliver has been a fixture in the United States TV landscape ever since he first appeared as a correspondent on The Daily Show with Jon Stewart in 2006. Oliver also had a recurring role on the popular show Community (as "Ian Duncan") and has been hosting the HBO late-night show Last Week Tonight with John Oliver on Sunday nights since 2014.
IN CASE YOU MISSED IT: Love Island 2020 - The Winners Have Been Revealed!!!
While we love watching John explain the news of the world to us on HBO, we found ourselves wondering who his significant other might be! So, without further ado, meet his wife Kate Norley right here.
John Oliver's wife is an Iraq War veteran
From a 2004 Stars and Stripes profile, we know that Kate Norley is a Virginia native and comes from an affluent family. After the 9/11 terror attacks in New York City and Washington, D.C. in 2001, Norley decided to join the Army and served as a combat medic. In Iraq, she counseled soldiers as a mental health specialist and she is still a passionate advocate for Veterans today.
John and Kate met at the RNC's National Convention
As fate would have it, Kate Norley actually met her future husband, who is a liberal Brit, at the 2008 Republican National Convention in St. Paul, Minnesota. Oliver was there representing The Daily Show and Norley was campaigning for Vets for Freedom. The Boston Globe reported in 2014 that Norley helped John and his Daily Show crew hide from security at the convention!
John Oliver and Kate Norley have two children
They were friends initially but eventually began a relationship. The couple got engaged in 2010 and was married the following year. Oliver describes his wife as "very American with a capital A" and that being with her has changed him, as well as his views on the United States.
"She grounds me in the fact that what I do doesn't really matter at all, and also I'm a little more defensive of how America is perceived overseas," Oliver told the Boston Globe. John and Kate live in New York City - they have two children, who were born in 2015 and 2018.
These two really are a true power couple and a great example that opposites do - in fact - attract!