He has been married eight times...
Larry King's Marriage Timeline: These Are His Seven Wives!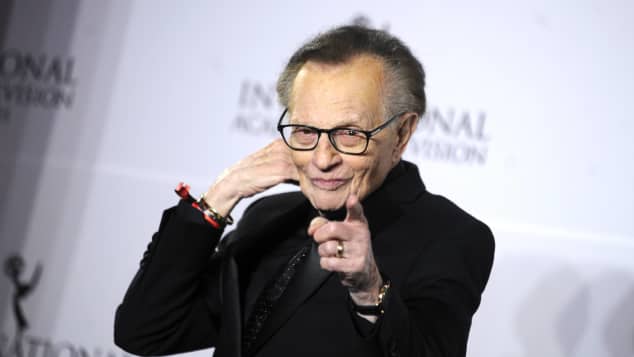 view gallery
(© imago images / Future Image)
Larry King is best known for being one of the most talented television hosts. But what about his personal life? Did you know he has been married not just once or twice, but eight times? Meet Larry King's wives here! 
American television and radio host Larry King has had some ups and downs concerning his personal life, in fact, he has tied the knot eight times with seven women over the past few decades. Let's find out more about the women he married, shall we?
1. Larry King and Freda Miller
King got married for the first time when he was only 18 years old to his high-school sweetheart Freda Miller. The marriage was allegedly not approved by their parents and it was annulled one year later.
(© Getty Images)
2. Larry King and Annette Kaye
Later on, The Larry King Show host got married in 1961 to Annette Kaye, who gave birth to his first son Larry Jr., however, they separated before celebrating their first anniversary together.
3. Larry King and Alene Akins
From 1961 to 1963, Larry King was married to Alene Akins, former Playboy bunny. Together they adopted a son named Andy.
4. Larry King and Mickey Sutphin
King wed Mickey Sutphin in 1964. She's the mother of his daughter Kelly. The couple divorced two years after getting married.
5. Larry King and Alene Akins (again)
Larry and Alene got married again in 1968. During their second marriage, they welcomed daughter Chaia. They separated again, this time in 1971.
6. Larry King and Sharon Lepore
A couple of years after Larry's second split with Alene, he met production assistant and former teacher Sharon Lepore. They were married from 1976 to 1983.
(© Getty Images)
7. Larry King and Julie Alexander
Larry King's sixth wife was businesswoman Julie Alexander whom he wed in 1989. They separated in 1990 but officially divorced in 1992. 
(© imago images / ZUMA Press)
8. Larry King and Shawn Southwick
Since 1997 Larry King has been married to former singer and actress Shawn Southwick, also known by her maiden name Shawn King. Their relationship has had some ups and downs as he filed for divorce in 2010, citing irreconcilable differences after it was known she had an affair with baseball coach Hector Penate, who admitted it. However, she and Larry decided to stay together and share sons Chance and Cannon.
(© Getty Images)