Leslie Mann: This Is Her Husband Judd Apatow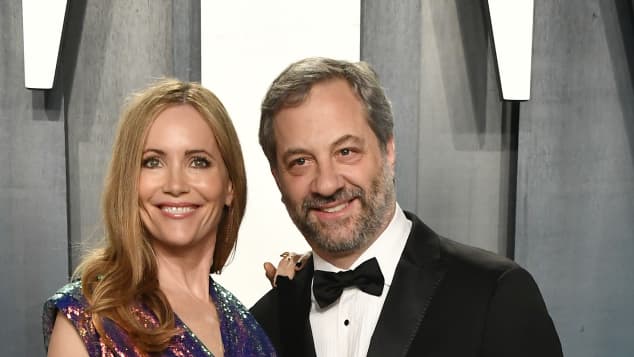 view gallery
(© Getty Images)
The King and Queen of comedy in Hollywood are easily identifiable. Its obviously, The Other Woman's Leslie Mann and Pineapple Express' Judd Apatow. Meet Leslie's husband here!
Leslie Mann is known for her amazingly funny and incredibly genuine characters in films such as Knocked Up, The Other Woman, and 40-year Old Virgin. Did you know she's married to comedy's best writer, director, producer Judd Apatow? It's True!
(© Getty Images)
Knocked Up's Judd Apatow
New York native, Judd Apatow, actually began doing stand-up comedy when he was 17 and then went on to study screenwriting at the University of Southern California. He grew his Hollywood Comedy scene integration throughout his time in Los Angeles and grew his reputation as a great comedy writer. 
(© Getty Images)
Leslie Mann and Judd Apatow, Destined To Laugh Together
In 1996, Apatow was working as a writer for the film The Cable Guy where he met gorgeous comedy actress Leslie Mann. The two married a year later and had their talented daughters Maude and Iris. Judd even had Mann and his two daughters co-star in the wildly successful films he wrote, directed and produced Knocked Up and This is 40. 
IN CASE YOU MISSED IT: 'Shaun Of The Dead': Simon Pegg & Nick Frost Recreate Scene For Social Distancing Message
Judd has become the writer, director every comedy star or comedian wants to work with, being nominated for and winning countless awards for his work. He wrote and directed the films 40-Year Old Virgin, Funny People, and for the shows Freaks and Geeks, Love, and Crashing.
Check out the cute couple's posts here (Warning, you might chuckle a little!):