She's also been in 'Black Mirror'!
'Black Panther': This is Letitia Wright Today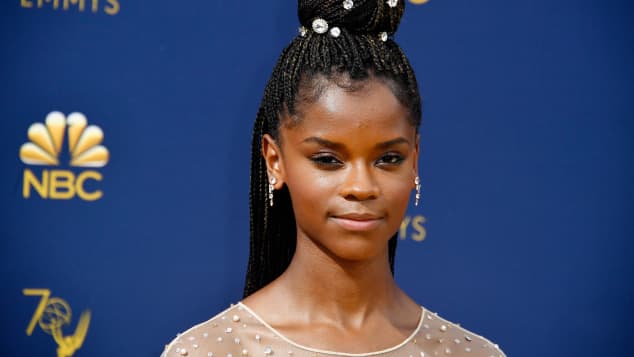 view gallery
(© Getty Images)
Letitia Wright, Black Panther star, is a Guyanese-British actress who first had an interest in the acting business as a young girl! She has since appeared in shows like Doctor Who and Black Mirror. See what Letitia Wright of Black Panther is up to today! 
Before Letitia Wright's fame in Black Panther, the young actress had pursued a career in acting because of the 2006 movie Akeelah and the Bee, which heavily inspired her! Born in Georgetown, Guyana on October 31st, 1993, Letitia moved to North London at age 7. By 16, she attended the Identity School of Acting in London.
Her first television credits include Holby City and Top Boy, as well as in the 2012 film My Brother the Devil. This film garnered her more attention as an actress, which led to more movie and TV roles!  
Black Panther: Letitia Wright Then and Now
While Letitia Wright had mass success with Black Panther, she also starred in a well-received role in the film Urban Hymn (2015). And Hollywood noticed! By 2017, Letitia had a role in the dystopian show Black Mirror, earning her a Primetime Emmy Award nomination for Outstanding Supporting Actress in a Limited Series or Movie.
(© Getty Images)
By 2018, Letitia Wright landed the role of "Shuri" in Marvel's Black Panther. In it, she starred alongside the late Chadwick Boseman, Michael B. Jordan, and Lupita Nyong'o. She and her cast won a SAG award for Outstanding Performance by a Cast in a Motion Picture, and Letitia herself received an NAACP award for Outstanding Breakthrough Performance in a Motion Picture. 
Letitia reprised her role as "Shuri" in Avengers: Infinity War and Avengers: Endgame. In 2019, she starred opposite Donald Glover and Rihanna in the Amazon Prime musical, Guava Island. 
(© imago images / Prod.DB)
So what's next for the beautiful actress? You can Letitia out this November 202 on Amazon Prime again for the miniseries Small Axe, directed by 12 Years a Slave director Steve McQueen. You can also check her out on the big screen this December, where she'll appear in the film Death on the Nile, alongside Russell Brand, Gal Gadot, Armie Hammer and Kenneth Branagh. 
It appears Letitia Wright and her Black Panther success did great things for the rising star! We can't wait to see more of her, whether in theaters or on streaming platforms!