She had to practice the moves to her viral song!
While Social Distancing Megan Thee Stallion Learned Viral "Savage Challenge" TikTok Dance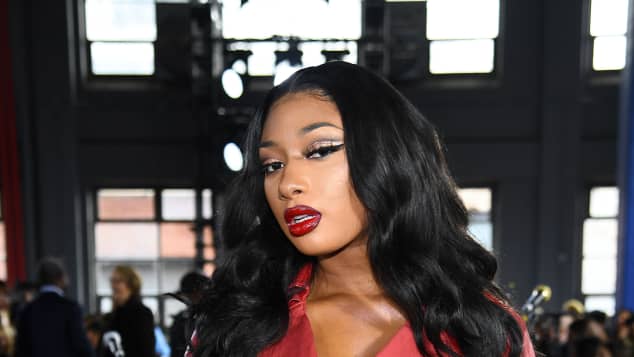 view gallery
(© Getty Images)
While her song "Savage" inspired a TikTok dance craze, Megan Thee Stallion admitted the choreography took time to learn! Here's what she said about it in a new interview!
Megan Thee Stallion may sing about being a savage, but she found the TikTok dance to her popular song brutally challenging to learn! In an exclusive interview with People, the rapper opened up about why she was inspired to take on the 'Savage Challenge'.
"I was clowning around in my hotel room and we had made our own little version of "Savage"," she shared. "I was dressing up in a bunch of different clothes and I saw a lot of people doing it the way I did it". That's when a certain choreographer caught Megan Thee Stallion's attention— 19-year-old Keara Wilson, who created the dance challenge.
RELATED CONTENT: Kesha Makes A TikTok Lip-Syncing Video To Her Own 2010 Hit Song
Megan Thee Stallion on "Savage" dance: "We gotta learn that"
Megan Thee Stallion told People that as soon as her best friend showed her Wilson's 'Savage Challenge' dance, she instantly wanted to replicate it. "I was like, 'We gotta learn that'," she said. "When we saw Keke do it, it seemed like she really broke it down. We literally sat in the kitchen for like 20 minutes trying to get this dance down pat".
After posting her own 'Savage Challenge' video on Instagram on March 12, Megan Thee Stallion said that the song and corresponding TikTok dance "went super crazy". With over 12 million fans following her on social media, and others discovering the song through TikTok, it's no surprise that the 'Savage Challenge' has taken off like it has!
RELATED CONTENT: Dame Judi Dench Shows Off Her Dance Moves In TikTok Video With Her Grandson - Watch Here
Megan Thee Stallion says her "hotties" motivate her music
Megan Thee Stallion also shared that her fans, who she's dubbed "hotties", are a constant source of motivation for her. "The internet has always been my friend when it comes to my music catching on," she said to People. "My hotties are always so supportive. They usually just keep a lot of things going".
She mentioned that some of those things include viral dances, like the ones for "Savage" and "Captain Hook" that are circulating online. "The hotties really keep the music alive for me," she admitted. That's why Megan Thee Stallion chose to release her EP Suga one week before COVID-19 was officially declared a pandemic.
RELATED CONTENT: Kesha Debuts New Quarantine Song "Home Alone" And Namechecks Macaulay Culkin
"I like to surprise my hotties so I was like, 'I need to drop this music.' I had already been recording [because] I'm working on my album," she revealed. "These are the songs I really wanted to hurry up and get out because I really wanted something for my fans to have, to hold them over".
Watch Megan Thee Stallion take on the 'Savage Challenge' here!