The rapper wants to start a family!
Missy Elliott: Her Career Then & Now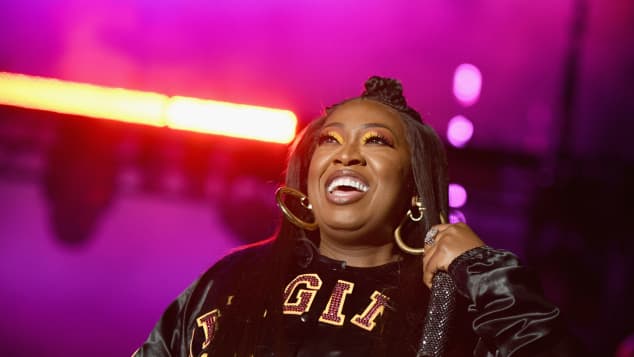 view gallery
(© Getty Images)
Missy Elliott started to build her career as a musician in the 1980's. With 6 studio albums and several successful singles, Missy is considered to be one of the greatest female rappers of all time!
The 48-year-old rapper Missy "Misdemeanor" Elliott has been active in the music industry since the late 1980's. Originally from Virginia, she started her career with the R&B group Sista and later on with the Swing Mob collective, where she worked with other rappers like Timbaland and the late singer Aaliyah. But it was in 1997 when she released Supa Dup Fly, her debut album as a solo artist, which debuted at number three on the Billboard 200 list, being the highest charting debut for a female rapper back then.
Missy Elliott: Rise to Fame
In 1999 Missy Elliott released her second album Da Real World which was also a big success. The following years she released four more albums, Miss E... So Addictive, Under Construction, This Is Not a Test! and The Cookbook, in 2001, 2002, 2003, and 2005, respectively. Some of her singles like "Work It", "Get Ur Freak On" and "Gossip Folks" had such success that the rapper earned a Grammy Award for Best Female Rap Solo Performance in 2002; overall she has won 6 Grammys and multiple awards.
(© Getty Images)
Missy Elliott - Her career now
Missy Elliott's most recent album was released in 2005 but the rapper hasn't stopped working! In 2015 she performed at the Super Bowl XLIX halftime show with her friend Katy Perry, which became the most watched Super Bowl halftime show in NFL history. One year later Michelle Obama announced that she had assembled a collaborative track featuring vocals from Missy Elliott, as well as from other musicians like Janelle Monáe and Kelly Clarkson; the record was intended to be used in order to promote a third-world educational initiative.
In the past years Missy Elliott has collaborated with other artists like Ariana Grande and Skrillex. And just a couple of months ago she revealed on Instagram that she is currently working in her new album which is set to be released this year: "I just finished a long project I been working on since last year & this my mood 'Keep On Moving' I'm about to show y'all I'm on some next ish", is what the rapper wrote on social media.
(© Getty Images)
A bit more about Missy "Misdemeanor" Elliott
-She became the first female rapper inducted to the songwriters hall of fame
-According to "Billboard" in 2017, she is the best-selling female rapper in Nielsen Music history
-Elliott has said that she would like to start a family, however, she has also explained that she's afraid of giving birth. Once she stated: "I don't know if I can take that kind of pain. Maybe in the year 2020 you could just pop a baby out and it'd be fine. But right now I'd rather just adopt."
-She has a blue Lamborghini and she rented Kill Bill's "Pussy Wagon" to use it in the video of her song "I'm Really Hot"
-She is a big fan of Björk and has performed as the opening act for artists like Michael Jackson, Madonna, and Jay-Z