An Award-Worthy Breakout Role!
Sacha Baron Cohen Thinks 'Borat' Co-Star Maria Bakalova Deserves An Oscar For Her Breakout Role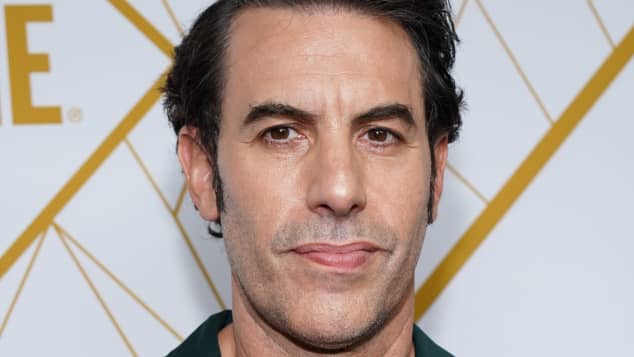 view gallery
(© Getty Images)
As the sequel to the infamous Borat hits streaming on Amazon Prime, many were blown away by the unknown actress, Maria Bakalova, who played "Borat's" daughter, "Tutar." If there's one person that deserves recognition for her role, Sacha Baron Cohen says it's her!
As the world is brought to laughter once again by the controversial and occasionally widely inappropriate "Borat," actor Sacha Baron Cohen is giving props to his co-star, Maria Bakalova.
The second film, Borat Subsequent Moviefilm, has already made quite the stir in pop culture for its take on the election, the coronavirus and more, generating much buzz about the film.
Sacha Baron Cohen Says To Give Maria Bakalova an Oscar
Borat Subsequent Moviefilm has people talking about the infamous Kazakh journalist and his inappropriate yet hilarious ways, and Sacha Baron Cohen says this time, the credit should go to his co-star, Maria Bakalova.
(© Getty Images)
The 24-year-old actress stole the scenes in her breakout role as "Borat's" daughter, "Tutar," and Cohen said that her hard work deserves recognition!
"She is one of the most courageous actors in history," Cohen said to Good Morning America. "If she doesn't get nominated for an Oscar, then that's a travesty."
"She's hilarious and she has the capacity to deliver a scene and make you cry, which is what finally got her the part," he added. "We did the break-up scene in the movie, and I had to stop it 'cause I felt myself getting quite emotional."
The sequel to the 2006 original film follows "Borat" and his 15-year-old daughter, "Tutar," as they navigate through America, making a substantial transformation along the way. During the film, "Tutar" comes into her own, and discovers that her father has not always told her the truth in regards to women's freedom, which helps "Borat" realize what's truly important in life.
"I would say that if the president's lawyer found what he did there appropriate behavior then heaven knows what he's doing with other female journalists in hotel rooms."@SachaBaronCohen weighs in on the Rudy Giuliani scene in #Borat2 that has made headlines. pic.twitter.com/RfeNJeWPdw

— Good Morning America (@GMA) October 23, 2020
"She's one of a kind. Imagine coming to America for the first time — she'd barely been out of Bulgaria — and suddenly she's playing a role with real people in some terrifying situations, and she got through it all," Cohen said of Bakalova.  
"I don't know how, but she is a revelation," he added. 
Cohen then shared that she won the part after 600 other women auditioned for the role, a process which Bakalova called "scary" but "incredible."
"Maria has been staying in character since the movie, and actually recently got taken on a tour of the White House by people who believed that she was a real journalist," he continued, on Bakalova's commitment to the role.
"I always felt safe with our team, with our crew, with Sacha in my corner," Bakalova said. "I actually never felt that I've been in danger. That's why I'm lucky — because I had them." 
Borat Subsequent Moviefilm is streaming now on Amazon Prime Video.