She even slapped director Paul Verhoeven!
Sharon Stone Claims She Was Tricked Into Removing Underwear For Iconic 'Basic Instinct' Scene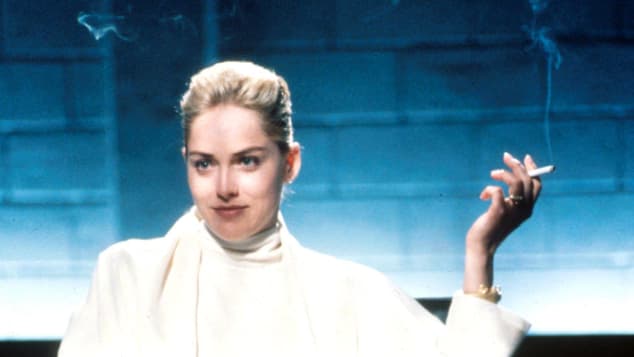 view gallery
(© IMAGO / ZUMA Wire)
Sharon Stone's memoir The Beauty of Living Twice is filled with salacious behind-the-scenes stories. Not only is it filled with clear #MeToo Hollywood interactions but also a bombshell about her most well-known scene in Basic Instinct. 
In a released excerpt of Sharon Stone's memoir The Beauty of Living Twice, the star let the public know just how deep the mistreatment of women runs in Hollywood. 
Sharon Stone Claims She Was Tricked Into Removing Underwear For Iconic Basic Instinct Scene
Sharon Stone just released a particularly revealing excerpt of her new memoir to Vanity Fair. Fans all over the world remember the classic Basic Instinct scene where her character "Catherine Tramell" uncrosses her legs exposing herself to the men in the room. The film became one of her and Michael Douglas's biggest hits.
Unbeknownst to viewers, the iconic scene was filmed under suspicious circumstances. She claims she went to view the full film "with a room full of agents and lawyers, most of whom had nothing to do with the project." She was shocked when she saw the full cut."
"That was how I saw my vagina-shot for the first time, long after I'd been told, 'We can't see anything—I just need you to remove your panties, as the white is reflecting the light, so we know you have panties on. Yes, there have been many points of view on this topic, but since I'm the one with the vagina, in question, let me say: The other points of view are bulls–. … It was me and my parts up there."
Sharon was so furious that she slapped the famous director, "Paul [Verhoeven] across the face, left, went to my car, and called my lawyer, Marty Singer." this is when she found out, "It wasn't legal to shoot up my dress in this fashion." Sadly, as has happened time and time again in Hollywood, the sole woman was bulldozed and the image was left in the scene without her consent.
"I let Paul know of the options Marty had laid out for me. Of course, he vehemently denied that I had any choices at all. I was just an actress, just a woman; what choices could I have? But I did have choices. So I thought and thought and I chose to allow this scene in the film. Why? Because it was correct for the film and for the character; and because, after all, I did it."
Sharon then did some self-tricking of her own and tried "to become objective" because she worked hard to be in a big film production and "only this director had stood up for me." Sadly she understands the magnitude of the scene, "Do you have any idea how many people have watched Basic Instinct in the last 20-something years? Think about it. It's about more than just a peek up my skirt, people."
Sharon also talked about a director who demanded she sit in his lap before scenes. "This #MeToo candidate called me in to work every day for weeks, when Laird was a brand-new baby, and had me go through the works—hair, makeup, and wardrobe—and then wouldn't shoot with me because I refused to sit in his lap and take direction. Of course the film was a bomb. The level of insecurity and unprofessionalism, and I would guess drug abuse, required to make those kinds of choices never leads to good work."
She also had producers tell her "I should **** my costar so that we could have onscreen chemistry. You guys insisted on this actor when he couldn't get one whole scene out in the test.… Now you think if I f— him, he will become a fine actor? Nobody's that good in bed. Sex, not just sexuality onscreen, has long been expected in my business."
Countless stars like Kelly Ripa and Sharon Osbourne are coming out of the woodwork and supporting Sharon is sharing her experience. 
I have learned to forgive the unforgivable. My hope is by sharing my journey you too will learn the same.
On @Oprah's list of 2021 Most Anticipated Books.
Publisher @aaknopf Pre-order link in bio. https://t.co/uTD0CKv44z]

— Sharon Stone (@sharonstone) January 9, 2021