Kathy Najimy is a Keen Human and Animal Rights Activist
'Sister Act': "Sister Mary Patrick" Looks So Different Today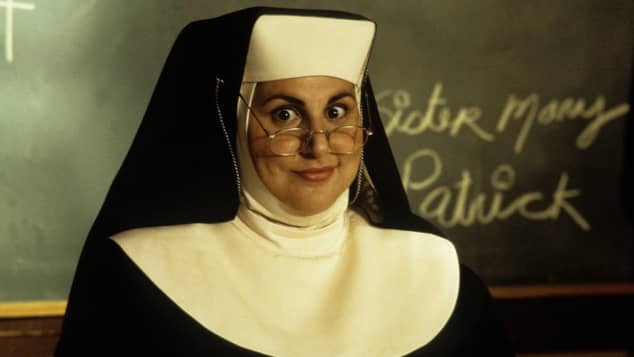 view gallery
(© Imago Images / Cinema Publishers Collection)
Kathy Najimy's film career began in the early nineties. She was only cast in small roles to start with and appeared in several Off-Broadway shows. However, she got her big break in 1992 when she was cast as "Sister Mary Patrick" in Sister Act. 
The musical Sister Act starring Whoopi Goldberg (64) has become a cult classic. Part of its success was thanks to Kathy Najimy (63) as "Sister Mary Patrick", who was hilarious and harmonized perfectly with Whoopi Goldberg as "Sister Mary Clarence".
Kathy Najimy played "Sister Mary Patrick"
After starring in Sister Act, Kathy appeared in countless films and TV series, including Hocus Pocus alongside Sarah Jessica Parker, Rat Race and Desperate Housewives. 
However, she has also found her calling outside the world of show business. 
Kathy Najimy Today
Kathy Najimy is a feminist and is a gay, women's and human rights activist. She uses her fame to help various causes and often takes part in game shows so she is able to donate her winnings to charitable causes. Kathy has been a vegetarian for many years and is a keen animal rights activist and has been honoured by PETA with an award for her work. 
Kathy married singer and actor Dan Finnerty (50) in 1998 and they have one daughter together named Samia (23). Samia's godmother is the one and only, Ellen DeGeneres!
When comparing photos of Kathy in the nineties with ones taken recently, she couldn't have changed more. Gone is the "nun" with the round face and even rounder glasses! Kathy's style has changed dramatically, she loves nothing more than a sexy pair of leather pants or a lace slip nowadays, proving that, even at sixty-three, she's is still one sexy lady.