They wanted to be prepared!
Steven Soderbergh Shares Why Best Actor Award Was Last At Oscars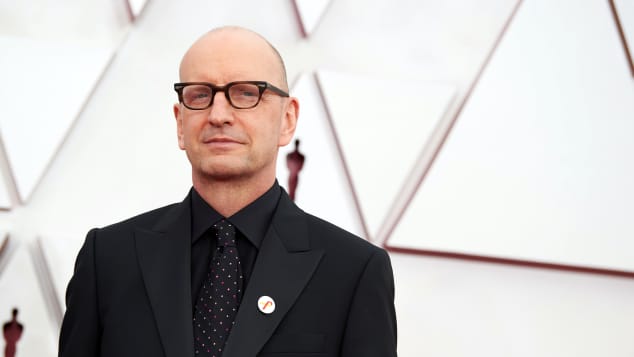 view gallery
(© Getty Images / Matt Sayles/AMPAS)
In a new interview, Steven Soderbergh shed some light on the controversial choice to change the order of awards at the 2021 Oscars! Soderbergh shared why they made the call to present Best Actor last, explaining that Chadwick Boseman's potential win in the category was a factor. See what he said about it!
Steven Soderbergh has spoken out about why the order of the last awards at the 2021 Oscars was changed! As the producer of this year's ceremony recently told the Los Angeles Times, there were several factors that influenced the choice— including the possibility that late nominee Chadwick Boseman could win.
Soderbergh says the Academy always planned to "mix it up"
Soderbergh shared that the initial thought process had been that it "might be fun to mix it up," saying changing up aspects of the show was "always part of the plan." However, Boseman's potential to take home Best Actor for his role as "Levee" in Ma Rainey's Black Bottom further encouraged the decision to switch the order of the last categories.
"And then when the nominations came out and there was even the possibility that Chadwick could win posthumously," the director explained, "our feeling was if he were to win and his widow were to speak on his behalf, there would be nowhere to go after that." While the award was ultimately given to Anthony Hopkins for his role in The Father, Soderbergh still wanted to be prepared.
Soderbergh says Boseman's wife's acceptance would have been "shattering"
Soderbergh went on to address the fact that "if there was even a possibility" Boseman could take home the award in his category, the 2021 Oscars would "have to account for that." He admitted that a speech from the late actor's widow would have been "such a shattering moment," saying that it would have been "just impossible" to continue the show afterwards.
He also said "no" when asked about whether he would have changed the decision to limit the ceremony to in-person participation only. Since Hopkins wasn't present to receive the award, the actor took to Instagram the day afterwards to deliver his acceptance speech. While Boseman may not have won big at the Oscars like many people expected, he was posthumously awarded for his performance in the role at the NAACP Awards.