Social distancing wasn't a problem...
Archie's First Birthday Was Spent With His Two "Best Friends" & This Surprise From Meghan Markle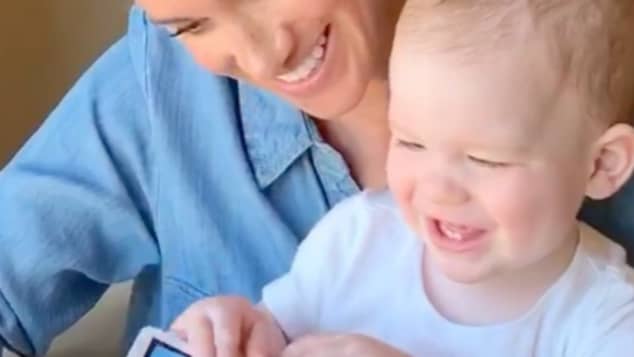 view gallery
(© Instagram / savechildrenuk/Duke of Sussex)
It sounds like Archie Harrison Mountbatten-Windsor had the first birthday of his dreams! Meet his two "best friends" and find out how the 1-year-old spent his big day last week below...
Prince Harry and Meghan Markle offered a glimpse into their son Archie's first birthday celebration one week ago today! The big day was Wednesday, May 6, when they shared a video of Meghan reading with the birthday boy.
Now, new details have emerged about how Archie spent his first birthday. A source close to the family informed People that Meghan took on baking duties while Harry managed the home decor.
"Meghan made the cake — strawberries and cream," the source told People. "And Harry helped with decorations and blew up balloons." 
Meghan's surprise for Archie was this strawberry "smash cake," which is one made with the expectation that a child will destroy it.
RELATED: Jennifer Garner's Sweet Reaction to Baby Archie's New Video
Baby Archie's first birthday was spent with family and friends
The source added that the birthday celebration included calls during a relaxed day at home. "They Zoomed with godparents, friends and family and had a really simple but incredibly joyous day."
As for Archie's "best friends"... Two of them were in attendance at the party. But in this case, social distancing wasn't a problem. The 1-year-old "is best friends with his dogs," the source told People. "They make him laugh and are gentle with him."
The family has two dogs: Guy, a beagle of Meghan's, and a black lab they adopted in 2018.
Meet Guy, Meghan Markle's Dog Who Will Live With Her and Prince Harry in Nottingham Cottage https://t.co/WgiQFftBK5 pic.twitter.com/bKu8aWtamv

— Cosmopolitan (@Cosmopolitan) November 28, 2017
RELATED: Meghan Markle Reveals Cute Nickname for Archie on His Birthday
Archie's new video went toward a good cause
In case you missed it, the video from Archie's birthday is also included below. In it, Meghan is seen reading Duck! Rabbit!, which was a special gift from none other than Oprah Winfrey! The video appeared on the Save the Children UK's Instagram page to raise money for its Save with Stories campaign.