The family of three left Vancouver Island!
Baby Archie Is Teething And Happy To Be In Sunny California With Harry And Meghan!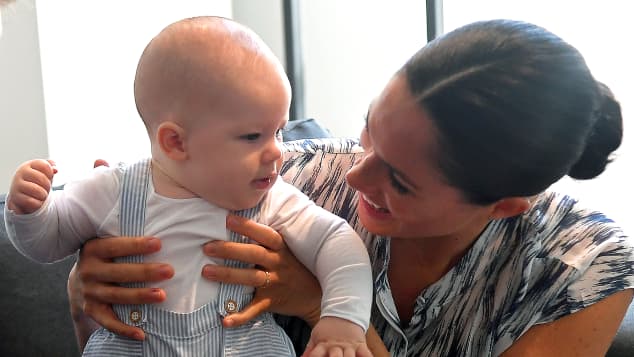 view gallery
(© Getty Images)
Harry, Meghan, and baby Archie left their Canadian home in March and are now settled in the United States. While the royal parents are house-hunting in the same area where Princess Diana planned to live, baby Archie seems to be enjoying the Californian sunshine!
Harry and Meghan left their Vancouver Island home earlier this year and relocated to Los Angeles, California, Meghan's hometown. A royal source has now revealed that the family of three is adjusting to social distancing due to the coronavirus outbreak. 
IN CASE YOU MISSED IT: THIS Is Why Archie Stayed In Canada During Harry & Meghan's "Farewell Tour"
The insider revealed according to People, that baby Archie is still adapting to his new life, and surely "happy to be in the Californian sunshine." The royal source also revealed Archie is teething!
Archie is turning one year old this year!
Baby Archie, who is turning one year old on May 6, made his first public appearance two days after he was born during a special appearance at Windsor Castle. Unfortunately he will not be making his debut at Queen Elizabeth's Trooping the Colour Birthday parade this year, since the event won't take place in its original form.
RELATED: Harry And Meghan Release Powerful Statement Amid COVID-19 Crisis: "We're All In This Together"
Baby Archie is seventh in line to the British throne. His parents, Harry and Meghan, are currently house-hunting in the same Los Angeles area where the late Princess Diana planned to live with her then boyfriend Dodi Fayed. Their goal is finding a place where Archie can be safe and also able to enjoy a private beach view!
We can't wait to see the new picture Harry and Meghan will release for Baby Archie's 1st Birthday, today! Stay tuned! 
The Queen Sends Baby Archie Birthday Wishes!
Queen Elizabeth II has wished her eighth great-grandchild a happy birthday on Instagram!