Does Meghan have the edge?
Duchess Catherine vs. Duchess Meghan: A fashion face-off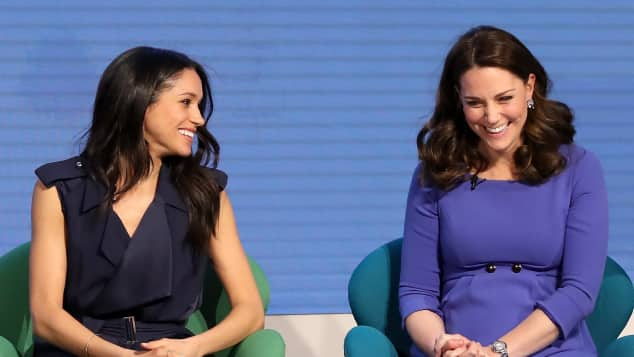 view gallery
(© Getty Images)
There's no doubt about it, both Duchess Catherine and Duchess Meghan are both extremely stylish. The public has decided however that one of them might just be a teensy bit more fashion forward than the other...and it looks like Prince William's wife might have snatched the style crown from Meghan's head.
Duchess Catherine (36) and Duchess Meghan (37) are both trendsetters, although they have very different styles. However, Ebay's latest market report proves that Duchess Catherine has a greater influence on British fashion than Prince Harry's (33) new wife does, making Catherine style queen!
Duchess Catherine's Maternity Fashion Inspired Thousands of Women
The clothes that Duchess Catherine wore whilst pregnant with Prince Louis (4 months) proved extremely popular with women up and down Great Britain. The search for tailored maternity coats skyrocketed in November 2017,  brands Jenny Packham, Alexander McQueen and Seraphine were the most popular.
Duchess Meghan, who has made headlines with a number of fashion statements throughout 2018, with the British press going crazy for her boat neck styles, came in a close second in Ebay's ranking. While Duchess Catherine's daughter, Princess Charlotte (3) was style queen in 2017, she only made it to third place this year, followed by her brother Prince George (5).
The Queen (92) completes the royal style top 5. The Queen's traditional style never goes out of fashion.