They enjoyed a hands-on experience!
Duchess Kate And Prince William Have Fun With Scottish Charity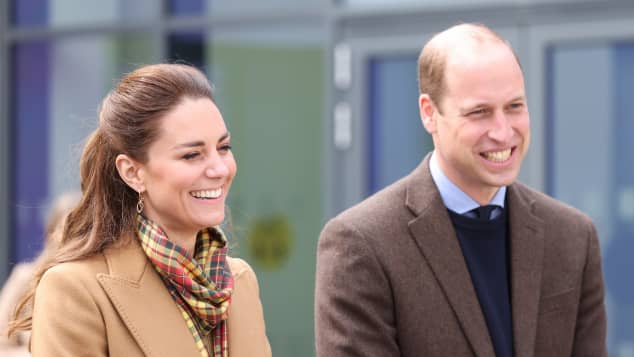 view gallery
(© Getty Images / Chris Jackson - WPA Pool)
On Monday, Duchess Kate and Prince William made stops at several charities in Scotland, sharing the activities they participated in! The Duke and Duchess of Cambridge had some musical fun at the first organization they visited, before heading into the kitchen. Find out more here! 
Duchess Kate and Prince William have been enjoying their latest royal excursion! The couple is currently in Scotland, and they paid a visit to several community-based organizations on Monday to show their support— as well as try out some fun activities!
Duchess Kate attempts to play DJ in humorous video
Duchess Kate and Prince William first headed over to the Scottish Violence Reduction Unit, which is located in East Lothian. While they were there, they had the opportunity to find out about the organization's work, and Kate even had some fun attempting to show off her musical side!
In a video clip shared to the Duke and Duchess of Cambridge's Instagram account, Kate plays around with a soundboard as she stands next to a volunteer. However, the resulting noise isn't exactly music— at least, not if William has anything to say about it! "Please turn that off, it's hurting my ears," he can be overheard quipping.
Duchess Kate says she "can rule out a music career"
Duchess Kate then apologizes "for leaving such a terrible song," telling the volunteers to get rid of it. Seen wearing a bright blue blazer and skirt, she accepts her clutch— which matches her nude heels— from William, who is in a navy suit. Kate laughs along with the volunteers as she exits the room, telling them to get rid of the tune she created.
"Can rule out a music career," they captioned the video, telling the organization to "please do delete that music..." The Scottish Violence Reduction Unit wasn't the couple's only visit that day! As they shared on Instagram, Kate and William later paid a visit to the Holyrood Kitchen, where the Duchess of Cambridge donned an apron as they assisted in preparing meals for "vulnerable families" throughout Edinburgh!