This Is How Prince William Reacted When His Brother Harry Was Born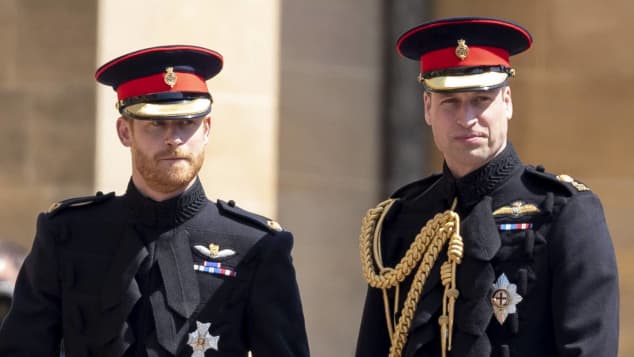 view gallery
(© imago images/Starface)
Prince William became Prince Harry's big brother on 15 September, 1984. The British weekly magazine Hello reported on how William is said to have reacted to the birth of Harry.
In the late afternoon of 15 September 1984, Lady Diana (†36), the Princess of Wales, became a mother for the second time and Prince Harry (35) was born.
The next morning his older brother, little Prince William (37), was allowed to enter the Lindo Wing of St. Mary's Hospital in Paddington, London, at the hand of his father Prince Charles (71).
RELATED: Harry and William Back In Touch After Tense Royal Exit
Prince William meets his little brother Prince Harry
According to the British magazine Hello, Prince William's mother Lady Diana got out of her bed and asked "Wills darling come here." Then she showed him his new baby brother, Prince Harry.
(© STEFAN ROUSSEAU/AFP via Getty Images)
Diana and Charles left the hospital the same day with Harry, while William left the Lindo Wing with his nanny Barbara Barnes 15 minutes later and even waved to the onlookers.
ROYAL NEWS: How Prince William Reminds His Children Of Princess Diana!
"William has taken to the new baby like a duck to water"
According to the Hello, Prince Charles is said to have told an employee a few days later: "William has taken to the new baby like a duck to water. It's worth a guinea a minute watching him enjoy himself. He's been climbing in and out of Harry's cot." Prince William and Prince Harry's grandfather, Earl Spencer (56), predicted at the time that the two brothers would one day be very close.
(© Getty Images)
"It will be lovely for William to have a companion and a playmate, and someone to fight with," said Earl Spencer, adding, "I'm sure Harry will be a very good chap." He should be right on both counts.
However, the close bond between Prince Harry and his older brother William was tested earlier this year by Harry's and Meghan's (38) exit from the British Royal Family. According to Royal expert Katie Nicholl, however, both are said to have come closer again in the meantime.