Good Husband: Prince Charles & Camilla's Cute Moment On Greece Trip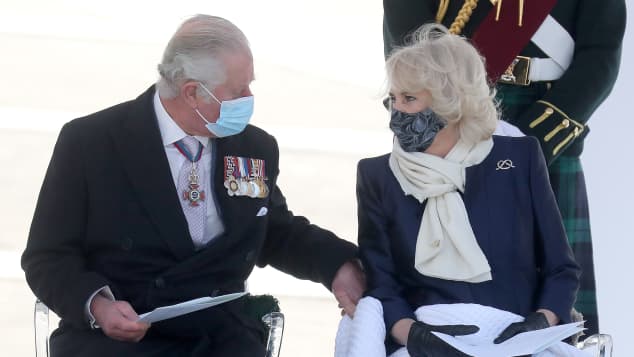 view gallery
(© Getty Images)
This week, Prince Charles and Duchess Camilla visited Greece for two days to mark the 200th anniversary of the country's independence. On Day 2 of the visit, they observed a military parade for Greek Independence Day — and during the outdoor event, Charles was spotted kindly laying a blanket for his wife. Read on to see the pictures!
Prince Charles was a doting husband during his and Duchess Camilla's trip to Greece this week.
The Greek PM had invited the Prince of Wales for two days to attend festivities for the country's bicentenary of independence. Day 2 saw Charles and Camilla observe a military parade, but it turned out to be a bit chilly outside.
Prince Charles' caring act for Camilla on Greece trip 2021
The royals stood to begin the parade, but they were eventually seated — and that's when Charles sprung into action. A serviceman was prepared with a blanket for Camilla, who was wearing a knee-length skirt. Charles was photographed busily spreading the blanket across his wife's lap to keep her warm.
The royal visit to Greece concluded on Thursday. During the stay, Prince Charles was also awarded a Gold Medal of Honour, and he spoke on his own ties to Greece, seeing as his father Prince Philip was born in the country and to its Royal Family.
Thursday was Greek Independence Day 2021, which was the 200th anniversary of the 1821 beginning to the Greek Revolution fought against the Ottoman Empire. 
There were also question marks about why the royals were permitted to travel to Greece when restrictions are in place amid the pandemic, but it was official work carried out on behalf of the British government on invitation from the Prime Minister of Greece.
Charles and Camilla also recently shared a portrait for Spring 2021, which had fans raving about how happy they've been looking together lately. They'll celebrate their 16th wedding anniversary next month.