Report: Prince Harry Has Important Final Meeting Before He Leaves UK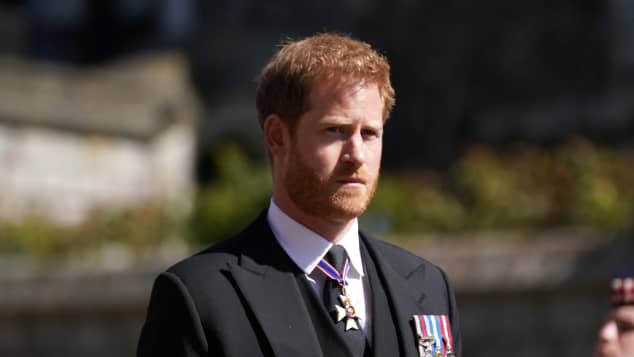 view gallery
(© Getty Images)
Prince Harry's time in the UK reportedly won't last for much longer. This week, the Duke of Sussex returned to England for the funeral of his grandfather Prince Philip. The ceremony was held on Saturday, and a Daily Mail report now says Harry will be flying home to the US on Monday to be with Duchess Meghan, but not before an important final meeting.
Prince Harry reportedly has important plans to attend to in the UK and in the US in the next 24 hours.
The Duke of Sussex has been in his homeland since Sunday last week, arriving in the UK ahead of the funeral for Prince Philip. It went ahead this Saturday, and Prince Harry will soon be heading home to California after a final meeting, according to Daily Mail.
Prince Harry returning to California after Prince Philip's funeral
Daily Mail today reported that Prince Harry is flying home on Monday to be with Duchess Meghan, who is well along in her pregnancy — so much so that she was advised not to fly in for the funeral of the Duke of Edinburgh.
However, the report adds that Harry is taking a "walk" today with his father Prince Charles. The Prince of Wales lost his father on April 9, and the meeting with his own son will come after Harry spoke during his interview with Oprah Winfrey on their strained relationship. So, perhaps it could be time for reconciliation amid the moment of family loss.
Prince Harry, Charles paid last respects to Prince Philip
Understandably, Prince Charles appeared emotional during the funeral procession for his father, which went ahead on Saturday. Prince Harry flew in to the UK two days after the death of his grandfather, and he likewise took part in the procession, walking in a row beside his cousin Peter Phillips, who divided him from his brother Prince William.
The Royal Family paid their last respects to Prince Philip on Saturday. There's also been some focus on Prince Harry and Prince William during the ceremony, after which they briefly spoke to one another. Harry and his father Charles will now also get in a private moment before the Duke returns home to California and his growing family.