Not the Queen's choice...
Palace Refused to Lay Wreath on Prince Harry's Behalf at Remembrance Service: Report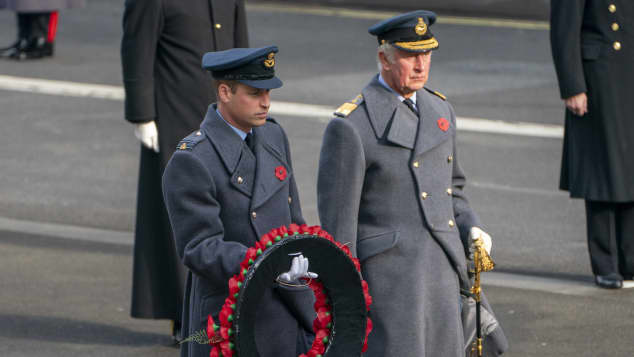 view gallery
(© Getty Images)
Today, the British Royal Family marked Remembrance Sunday with a ceremony honouring fallen servicemen of the World Wars and later conflicts. Prince Charles and Prince William were among those leading the proceedings. However, Prince Harry—who is now living in California—was reportedly "denied" a request to have a wreath laid on his behalf. Here's what reports say about the decision, which is said to have left Harry "deeply saddened."
Prince Harry is known to hold military causes close to his heart. Though now living in the US, the Duke and British army veteran hoped to mark the UK's Remembrance Sunday 2020 by having a wreath laid on his behalf at the service attended by the Royal Family.
However, the Duke of Sussex's request was denied, according to The Sunday Times. This is why it was refused and who was involved in the decision.
Prince Harry's wreath request denied on Remembrance Sunday
As The Times reports, Harry made a "personal request" to Buckingham Palace for a wreath to be laid on his behalf at the Nov. 8 ceremony. But the request "was denied by courtiers on the grounds that he is no longer representing the monarchy."
The report adds that the Queen was "not made aware of her grandson's wish," and that Harry was left "deeply saddened" by the decision.
(© Getty Images)
At the Remembrance Sunday service, Prince Charles and Prince William were seen laying wreaths, while the Queen was joined by Duchess Kate and Duchess Camilla on a balcony at the Cenotaph on Whitehall in London.
Prince Harry's military career and the Invictus Games
The Times adds that this is "the clearest sign yet that [Harry's] official links to the royal family are permanently severed."
As the Duke is no longer on social media, he marked Remembrance Sunday by appearing on the Declassified podcast, where he discussed poppy wearing, his military service, respect for veterans, and the meaning of laying wreaths at the Cenotaph. With Duchess Meghan, he also later attended a ceremony in LA, where he laid a wreath of his own. 
(© Getty Images)
Harry served in the British army for 10 years and served tours of duty in Afghanistan in 2007 and 2012. He also founded the Invictus Games, the celebrated multi-sport event for wounded, sick, or injured armed services personnel.
When he and Duchess Meghan stepped down as senior royals in early 2020, Harry was reportedly most devastated by having to surrender his military titles.