"2020 forced them to have many conversations"
How William & Harry Set Aside Differences When Prince Charles Got COVID-19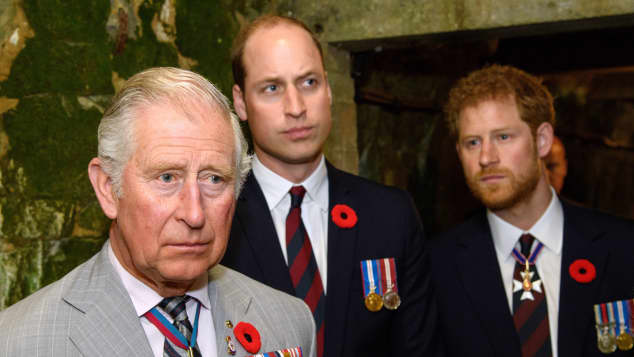 view gallery
(© Getty Images)
Prince Harry and Prince William's relationship may be forever changed, but signs of improvement began due to challenges faced by the Royal Family throughout 2020. According to royal insider Omid Scobie, the brothers set aside their differences amid their father Prince Charles's battle with COVID-19 last year. This and other moments led to "many conversations," but the expert says "healing is still minimal" for now.
Although Prince William and Prince Harry's relationship appears to be hopelessly fractured, the challenges faced by the Royal Family last year forced the brothers to set aside their differences and resume contact. As a royal expert has revealed, the princes began speaking again after their father fell ill with COVID-19 in 2020.
Harry & William spoke again while Prince Charles had COVID
In a new interview with OK magazine, royal expert Omid Scobie—author of Finding Freedom—assured that Harry and William resumed communication after their father was infected with the coronavirus.
"It would be wrong to say their relationship is healed, but 2020 forced them to have many conversations," Scobie said. "For instance when Charles was sick with Covid and then William. And when Meghan suffered a miscarriage."
Scobie also mentioned that although Harry and William's relationship is not as it once was, interest in maintaining a close family has motivated them to take steps forward. "The focus on family pushes them forward and while progress with their healing is still minimal, it's moving in the right direction," he added.
Princess Diana still binds Prince Harry and Prince William
According to Scobie, contact between the brothers increased considerably in recent months thanks to planning for a statue of their mother, Princess Diana, which is to be revealed in this summer.
"William and Harry know all eyes will be on them when they reunite for their late mother's memorial and how important it will be to not let what has happened in the past between them overshadow her memory," Scobie said.
Though unlikely to resurface at the ceremony, the drama between the brothers will be revisited with Prince Harry scheduled to return to the UK for the statue unveiling in July. The Duke of Sussex reportedly also would have returned earlier in 2021 to meet with the Queen had it not been for pandemic travel restrictions.