Prince Philip: What Happens To His Duke Of Edinburgh Title?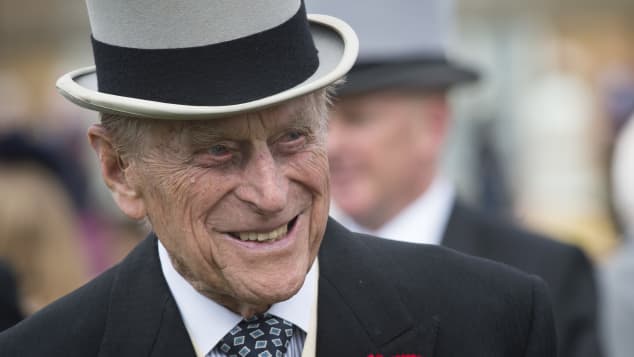 view gallery
(© Getty Images)
Prince Philip, the husband and consort to Queen Elizabeth II, has passed away at the age of 99. The long-lived royal had held the title of The Duke of Edinburgh, one granted to him upon his marriage into the Royal Family in 1947. But now that Prince Philip has died, what will become of the Dukedom that he held for over 70 years?
On April 9, Queen Elizabeth II announced the sad news that Prince Philip, her husband of 73 years, had passed away. He was 99 years old and died "peacefully" just two months shy of his centenary birthday.
Since 1947, Prince Philip had held the title of The Duke of Edinburgh, associated closely with him and often used in place of his name. Will there be a new Duke of Edinburgh? Does one of his children inherit the Dukedom? Here's what's expected to happen to the title.
Prince Philip's title: The Duke of Edinburgh
The Duke of Edinburgh is a rare title held by only five other British royals prior to its recreation for Prince Philip. He was the first Duke of Edinburgh since Prince Alfred, a son of Queen Victoria, who held the title from 1866 until his death in 1900.
King George VI recreated the title for Prince Philip in 1947, when he married the king's daughter Princess Elizabeth, the future Queen Elizabeth II. Now that the Duke has died, it's expected that the title will go to Prince Edward, the youngest son of the Queen and Prince Philip.
Prince Edward: The future Duke of Edinburgh?
When Prince Edward married Sophie Rhys-Jones in 1999, he and and his wife were granted the titles of the Earl and Countess of Wessex. Upon their royal wedding, BBC News reported that it also was "agreed" that Edward would eventually become the Duke of Edinburgh after his father's passing, owing to his work with the Duke of Edinburgh's Award—founded by Prince Philip in 1956.
The transition will not be immediate, however. When Prince Philip died, all his titles were inherited by his eldest son, Prince Charles. But, because Charles is the heir to the throne (the Prince of Wales), the Duke of Edinburgh is not a title he'll use and it will merge with the Crown when he becomes King.
So, when Prince Charles ascends the throne, the Duke of Edinburgh title will need to be recreated again for Prince Edward, in accordance with Buckingham Palace and the Royal Family's earlier decision. Daily Mail today also confirmed that this is still the plan for the Dukedom.
Sadly, the news of Prince Philip's passing on April 9 came just two months shy of his 100th birthday. Here you can revisit the life of Prince Philip, the late Duke of Edinburgh, through the years.