The Queen Is Mailing The Saddest Card To Fans Who Wrote After Prince Philip Died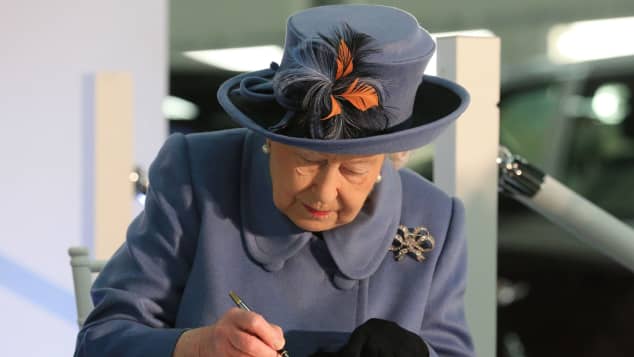 view gallery
(© Getty Images)
The Queen has been mailing cards with a personal message to those who sent condolences after the death of Prince Philip. Royal fans have been receiving the return mail in recent days, and they've shared the card online. It features a sad note of thanks from the Queen beside a portrait of the Duke of Edinburgh, who passed away at the age of 99 on April 9.
The Queen has been letting fans know just how much the kind words have meant to her following the death of Prince Philip.
This week, royal fans shared a card Queen Elizabeth has mailed to those who sent her condolences upon losing her husband of 73 years. The Duke of Edinburgh passed away on April 9 and mourners have met the Queen with a wave of support since then.
The Queen replies to mail after Prince Philip's death
The Queen sent out a folded card featuring the cover message, "In memory of His Royal Highness Prince Philip, Duke of Edinburgh: 1921 - 2021." Inside, it shows a sharp portrait of Prince Philip in a suit, beside the Queen's personal note.
"I send you my sincere thanks for your kind words of sympathy on the death of my husband," the Queen's message reads, signed off "Elizabeth R." Here's what it looks like, via Couture and Royals on Twitter.
This made my heart ache
Replies to the letters of condolences to The Queen on the death of The Duke of Edinburgh have started to arrive.

Still sending the biggest virtual hug to HM The Queen ❤️

Credits: (@/ sunshine_and_santa_claus on ig) pic.twitter.com/nz3qqVGTf1

— CoutureAndRoyals (@CoutureRoyals) April 27, 2021
The Queen's message was characteristically succinct and formal, but fans were still moved by the 95-year-old monarch's words amid her time of grief. She'd been married to Prince Philip since 1947.
The Queen has resumed duties after Prince Philip's death
Queen Elizabeth has returned to her duties in-full since the official two-week mourning period for Prince Philip concluded back on April 23. She previously also spoke out on her birthday with a message of thanks for the support she's received after her husband's death.
Sadly, the Queen turned 95 years old just 11 days after Prince Philip passed on at the age of 99. In addition to mail for the Queen, mourners had also visited the Palace and formed a moving wall of tributes to the late Duke in the days after his death.