The Queen attends the Braemar Highland Gathering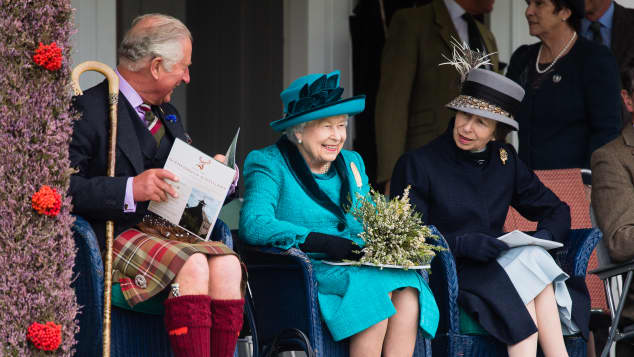 view gallery
(© Getty / Samir Hussein/Samir Hussein/WireImage)
This weekend, Queen Elizabeth II, Prince Charles, and Princess Anne visited the Braemar Royal Highland Gathering. The Highland Games event is held annualy near the Queen's Scottish retreat in Balmoral. The Queen wasn't just a spectator this year though, she also unveiled the The Duke of Rothesay Highland Games Pavilion, a museum dedicated to the history of the games.
Queen Elizabeth officially unveiled a new Highland Games pavilion at the Bramaer Gathering this weekend. The event is visited by 15000 people annually and takes place just miles from the Queen's estate at Balmoral. The Royal Family traditionally attend the event each year, since Queen Victoria visited it for the first time back in 1848. Events include highland dancing, tug of war, traditional hammer throwing and various track and field events.
The Queen wore a beautifully tailored, teal suit with matching hat and was joined by her son Prince Charles, or the Duke of Rothesay as he is known in Scotland, and the Princess Royal and her husband Sir Timothy Laurence. The games were held at the Princess Royal and Duke of Fife Memorial Park.
Both the Queen and Princess Anne were given floral posies, which they could be seen carrying throughout their entire visit. 
Before concluding her visit, Queen Elizabeth and Prince Charles officially unveiled the newly-built Highland Games Pavilion, which houses an exhibit showcasing the history of highland games worldwide and which will be opened to the public in 2019.