A far more somber occasion...
William And Kate Honour Frontline Workers At Westminster Abbey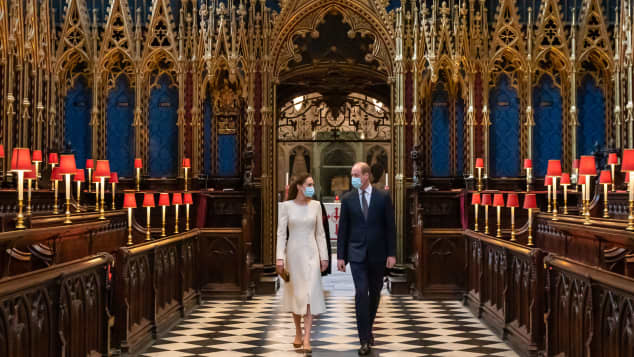 view gallery
(© Getty Images / Aaron Chown - WPA Pool )
On Tuesday, Prince William and Duchess Kate made a special trip to Westminster Abbey! While the church was the site of their royal wedding almost 10 years ago, the Duke and Duchess of Cambridge's visit came as they paid their respects to those who died of COVID-19. See the photos here!
Prince William and Duchess Kate are continuing to show support for those on the frontlines of the pandemic! The couple stepped out for their latest royal engagement on Tuesday as they paid a special visit to Westminster Abbey, which is currently being used as a vaccination clinic.
William and Kate's visit comes on lockdown anniversary
William and Kate were both dressed in formal attire for the occasion. As Hello! mentions, Kate's scalloped white coat was designed by one of the duchess's favourite labels, Catherine Walker. She also wore Annoushka earrings and carried a Métier London clutch, while William was seen wearing a navy suit with a patterned tie.
Instead of coordinating their face masks with their outfits as per usual, both Kate and William wore standard medical grade ones. The Duke and Duchess of Cambridge's outing came during the National Day of Reflection, which commemorates one year since the United Kingdom first went into lockdown due to the pandemic.
William and Kate pay tribute to COVID-19 victims
William and Kate happen to have a special connection to Westminster Abbey! Their royal wedding took place at the iconic chapel back in April 2011, so the visit comes after nearly a decade of marriage. While they were there, the couple spoke with staff members at the makeshift clinic, as well as several people who were getting vaccinated.
The Duke and Duchess of Cambridge also honoured the memory of those who have passed away because of COVID-19. In a new Instagram post from the Kensington Royal account, Kate can be seen laying down some daffodils, while William lights a candle. "Today we remember all those who have lost their lives as a result of the pandemic over the last twelve months," the caption read, calling it "a moment of reflection."
In a recent video call, William and Kate expressed their support for people getting vaccinated! Last November, William revealed that he had tested positive for coronavirus back in April. His father Prince Charles also contracted the illness early on, which reportedly caused William and his brother, Prince Harry, to set aside their differences for the time being.