Chris and Krystal tie the knot!
'Bachelor in Paradise': A Wedding And A Break-Up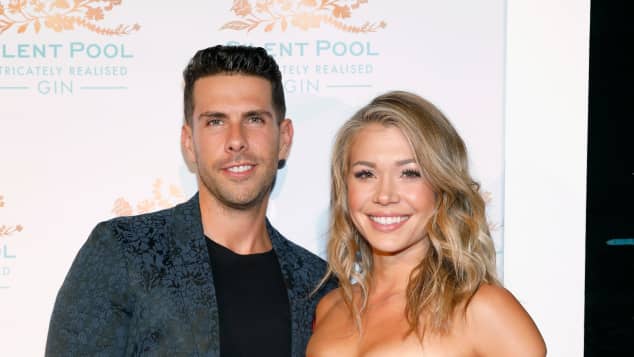 view gallery
(© Getty Images)
Last night's episode of Bachelor in Paradise was full of love, break-ups and drama. We saw Chris and Krystal tie the knot, JPJ cause a scene and Dean dump Caelynn. Keep on reading for all the details on what went down last night in Paradise... 
After the rose ceremony, Caelynn was gushing to Dean about how nice it was that he threw her a birthday party and got her a cake and then Dean pulls her aside to talk. He says that "I know I won't be able to get where you would need me to be by the end of this," and says that he thinks he should go home. Caelynn is humiliated and sad, of course. 
Drama with JPJ and Derek
Before the crew heads to the big wedding, JPJ breaks down about Tayshia who has a budding relationship with Derek. At the wedding JPJ decides that it's the right time and place to call out Derek because he thinks that Derek uses his fame from the franchise to take advantage of women. Uh-Oh. JPJ also tried to tell Tayshia that he doesn't think Derek is the right guy for her but she's having none of it at the wedding. Tayshia cries around the corner after JPJ causes a scene with Derek and Krystal has now said that that whole situation definitely put a damper on their day.
Caelynn: On to the next one 
Meanwhile, Caelynn seems to be over Dean and suddenly interested in Connor who is attending the wedding (they kiss at the reception) and then surprise! Connor is now in Paradise. Well-played, producers. Angela (Clay's ex-girlfriend) is in the wedding party and is looking amazing! It is obviously hard for Clay to see her especially when he had started heating things up with Nicole. Turns out, Chris and Krystal only invite some of the contestants to the reception: Hannah, Dylan, Caelynn, Blake, Mike, Kristina, Tayshia and Clay. Sorry Nicole... (and Sydney, Demi, Kristian, Chris, JPJ, Derek, Haley and Katie).
Chris and Krystal's Wedding
The ceremony was stunning and Chris Harrison did a great job officiating as per usual. Other Bachelor Alumni in attendance were Ashley and Jared, Raven and Adam, Annaliese, Kendall and Joe, Becca Kufrin, Ben Higgins, Kevin and Astrid, Brooks (from Desiree's season of The Bachelorette with a man-bun!) and more. Krystal and Chris looked amazing and their vows were just stunning. We wish them nothing but the best!
After the wedding drama
There is now some drama between Clay, Nicole and Angela as the producers decide to stick Angela in Paradise too. At the wedding Clay pulled her aside to chat saying that "it's been tough knowing that I was going to see you. I still do care about you a lot... I just want you to be happy." Clay admits to Nicole the next day that she has nothing to worry about, until Angela arrives on the beach...
Caelynn and Connor go on a date 
Blake is still with no one on the beach and we are okay with that at this point. When Connor arrives in Paradise he asks Caelynn on a date and they go on one of those awkward "paint with your body" dates. They seem to really hit it off. We will have to wait until next week to see how the drama unfolds... Until then rose lovers!