'Emily In Paris' Season 2 Is Happening, Netflix Confirms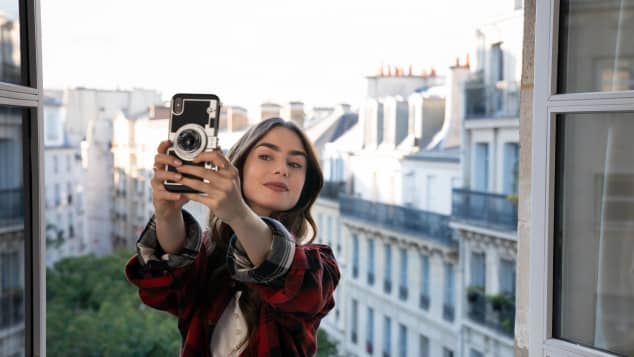 view gallery
(© imago images / ZUMA Press)
After becoming one of 2020's most successful streaming shows, Emily in Paris is set to return for a second season. Netflix announced the news this morning in a great video with the show's cast, including star Lily Collins, celebrating the renewal. Here's everything we know so far.
Deux is better than un. After topping Nielsen's most-streamed series list for several weeks and being among the most-hyped shows of the year, Emily in Paris has been green-lit for a second season on Netflix.
The show, starring Lily Collins and created by Darren Star—who's behind hits like Sex and the City and Younger—will be back for more after premiering season 1 in early October. The news was shared in a video with the cast and a letter informing that "Emily" (Collins) will be staying in the City of Light for an extended time.
Emily in Paris: Netflix and the cast confirm season 2
With a whole campaign around it, Netflix celebrated the renewal of Emily in Paris season 2.
Emily in Paris will return for Season 2! pic.twitter.com/QDOzpzjliz

— Netflix (@netflix) November 11, 2020
Through the video shard on social media, Netflix revealed the continuation of the series that become a streaming phenomenon. "Deux is always better than un," it reads at the end of the cast-led video.
Along with the announcement, Netflix shared a letter between inexperienced marketer "Emily" and her boss, saying that she will stay in Paris for an "extended period of time."
Emily in Paris: Fans loved the 2020 Netflix show
Despite little promotion ahead of its premiere, Emily in Paris still went on to become one of Netflix's biggest hits of the year.
(© imago images / ZUMA Press)
In the series, the famous daughter of Phil Collins plays "Emily," an American girl who tries to adapt to a busy French lifestyle after moving to Paris to work at a marketing company. Under the shelter of the City of Light, "Emily" begins a new life full of career challenges, new friendships, and even romantic suitors.
Emily in Paris seasoon 2 could start filming in mid-2021, depending on the production conditions amid the COVID-19 pandemic.