The time-travelling duo is back for another adventure!
Keanu Reeves And Alex Winter Star In Hilarious Trailer For 'Bill & Ted Face The Music' - Watch It Here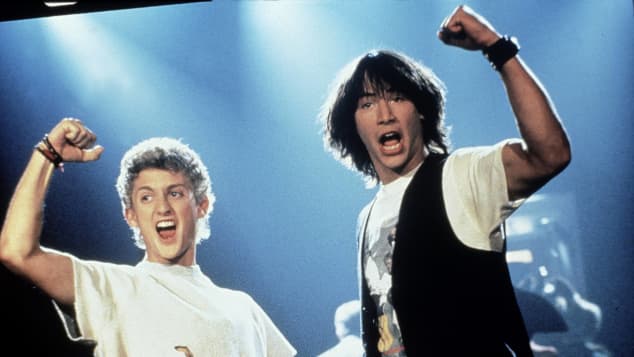 view gallery
(© imago images/United Archives)
The brand-new Bill & Ted movie finally has an official trailer! See Keanu Reeves and Alex Winter reprise their iconic roles in this teaser for Bill & Ted Face The Music!
Keanu Reeves and Alex Winter will be bringing Bill & Ted back to your screen this summer! As People shares, on Tuesday, Orion Pictures debuted the first teaser trailer for the third installment of the series, Bill & Ted Face The Music.
RELATED CONTENT: Keanu Reeves Forced John Wick Franchise To Change Its Name After Getting It Wrong In Interviews
Bill & Ted 3: what we know about the plot of the upcoming movie!
Bill & Ted Face The Music comes 31 years after the original Bill & Ted's Excellent adventure, and sees Winter and Reeves once again playing "Bill Esquire" and "Ted Logan." This time, the duo ends up taking a trip to the future to steal a song... from themselves!
"We've spent our whole life trying to write the song that will unite the world," Reeves' character "Ted" is seen saying in the new trailer.
"Why can't we just go to the future when we have written it? ...But isn't that stealing?" "How is that stealing if we're stealing it from ourselves, dude?" Winter's "Bill" responds.
"Bill" and "Ted" encounter surprising future versions of themselves
Reeves and Winter's characters soon realize that their quest to steal a song from their future selves is easier said than done though, discovering that the future "Bill" and "Ted" are hardened criminals! With muscular builds, orange prison jumpsuits, and tattoos, they're virtually unrecognizable from the duo at present.
"Yet to fulfill their rock 'n' roll destiny, the now middle-aged best friends set out on a new adventure, when a visitor from the future warns them that only their song can save life as we know it and bring harmony to the universe," People says of the movie's synopsis, as explained in a previous press release. "Along the way, they will be helped by their families, old friends and a few music legends."
Their destiny is calling. Keanu Reeves and @Winter are BACK in the official poster for Bill & Ted Face the Music! Time to be excellent, dudes. ⚡️ #BillAndTed3 #FaceTheMusic #BillAndTedDay pic.twitter.com/MSZToqIOQZ

— Bill & Ted 3 (@BillandTed3) June 9, 2020
RELATED CONTENT: Perry Mason: HBO Debuts First Full Trailer For 2020 Reboot Series - Watch It Here!
Bill & Ted Face The Music also stars Samara Weaving, Jillian Bell, and Holland Taylor. William Sadler reprises his role of "Death" as well, which he first played in the duo's last adventure, 1991's Bill & Ted's Bogus Journey.
Watch the brand-new trailer for Bill & Ted Face The Music here!