Christopher Meloni Reveals Mariska Hargitay Will Appear On His New 'SVU' Spin-Off!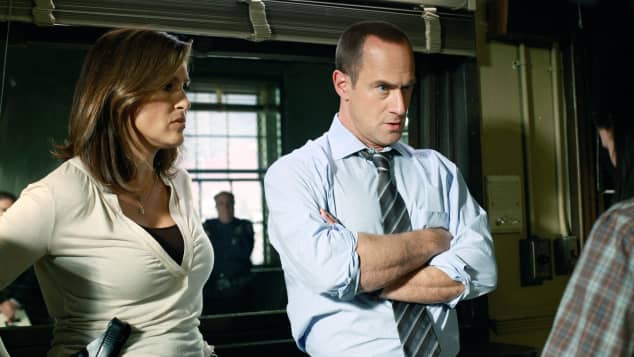 view gallery
(© imago images / Everett Collection)
Christopher Meloni has confirmed that his former screen partner, Mariska Hargitay, will appear on his new Law & Order: SVU spin-off series! The actor returns to the Law & Order universe to portray "Det. Elliot Stabler" in Organized Crime this fall on NBC. And while a reunion was confirmed for "Stabler" on SVU, Meloni has now revealed that Hargitay's "Olivia Benson" will appear on Organized Crime too. Read his comments here.
Christopher Meloni says "Oh yeah!" to hopes of seeing "Olivia Benson" on Law & Order: Organized Crime — the new SVU spin-off centred on "Det. Elliot Stabler."
The Law & Order universe icon confirmed the news during a new appearance on The Talk. Here's what he had to say.
Christopher Meloni on Mariska Hargitay and Organized Crime
On Wednesday, Meloni joined the hosts of The Talk, where he opened up about his return to the role of "Stabler." If you're behind on the news, the actor rejoins the Law & Order universe in a new spin-off titled Organized Crime, which debuts on NBC this fall. "Stabler" will also return to SVU for the season 22 premiere and possibly additional episodes beyond that.
But Meloni has now made it clear that not only will "Stabler" appear on SVU, but "Benson" will make the crossover to Organized Crime. The Talk's Sharon Osbourne pressed Meloni on the reunion possibility, to which he responded: "Oh yeah!"
Wednesday on "The Talk@Home," @Chris_Meloni discusses reprising his role as Detective Elliot Stabler in the new spin-off "Law & Order: Organized Crime" and a reunion with Mariska Hargitay. pic.twitter.com/W0mtkgVGFU

— The Talk (@TheTalkCBS) July 29, 2020
"How much [will Hargitay appear on Organized Crime]? I don't know, because I hear she has her own day job," Meloni joked. "I think whatever we can slice away, whatever the writers come up with. I think we will both be looking forward to playing with each other in each other's sandbox."
Christopher Meloni's new show: Law & Order: Organized Crime
During the interview, Meloni, 59, elaborated on the exit of "Stabler" and what he thinks has changed for the character in light of passed time as well as current social change.
"There are a lot of unanswered questions about how he left, why the silence vis-à-vis Olivia Benson," he said. "I think, in real terms, society, and what we are dealing with in society, has changed dramatically. So, I think you have to address that. And, I think the person Elliot was, I think we all evolve. I think all those things are going to be put into play."
Meloni had hinted at the likelihood of SVU and Organized Crime crossovers in a New York Post interview earlier this month. Plus, "Benson" and "Stabler" only added to the anticipation with an off-screen reunion that they shared with fans just last week.
At this time, it remains unclear just when SVU season 22 and the premiere of Organized Crime will launch on NBC this fall. But when they do, Organized Crime will air Thursday nights at 10 p.m., following SVU at 9 p.m.