Gearing up for Phase 4 of the MCU!
Marvel Reveals Titles And Release Dates For New Slate Of Films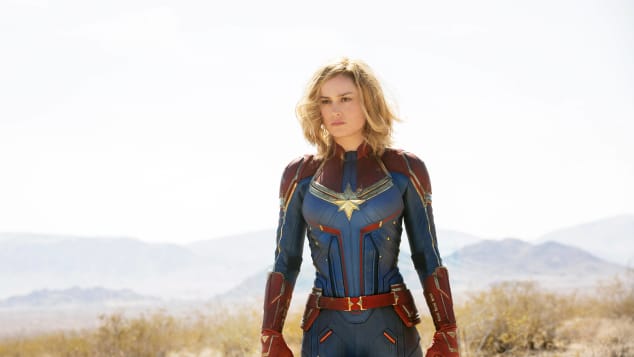 view gallery
(© IMAGO/Everett Collection)
On Monday, Marvel gave fans an exciting new look at what's to come in the future of the MCU over the next few years! With a special video looking back at Phase 3 of the superhero franchise, they also announced exciting new titles of highly-anticipated movies like Black Panther 2 and Captain Marvel 2. Get the details here!
Marvel Studios is known for its epic, action-packed movies, and the latest slate of offerings already has fans looking forward to the future! On Monday, fans of the superhero franchise got a treat when a special video was released that teased a brand-new look at Phase 4 of the Marvel Cinematic Universe.
Marvel retitles Captain Marvel and Black Panther sequels
Marvel began the video with a retrospective look at from Phase 3 of the MCU before transitioning into new footage and release dates for movies coming out this year! The long-awaited Black Widow movie will debut on July 9, with Shang-Chi and the Legend of the Ten Rings coming on September 3. Oscar-winning director Chloé Zhao's Eternals will be released on November 5, while Spider-Man: No Way Home comes out on December 17.
The studio also shared new information about previously announced projects. Black Panther 2 is now titled Black Panther: Wakanda Forever, set to be released on July 8, 2022. Captain Marvel 2— which will be directed by Nia DaCosta— has been renamed The Marvels, debuting November 10, 2022. The name change reflects the movie's focus on "Captain Marvel" as well as "Ms. Marvel" and "Monica Rambeau"— the latter of whom took up the "Captain Marvel" mantle in the comics.
Marvel announces release dates for Phase 4 movies into 2023
Marvel also confirmed release dates for several other previously announced movies that will be debuting over the next few years. Doctor Strange in the Multiverse of Madness will be released on March 25, 2022. Thor: Love and Thunder is coming on May 6 of the same year, which will see "Jane Foster" take on the mantle of "Mighty Thor".  
Ant-Man and the Wasp: Quantumania and Guardians of the Galaxy 3 are both coming in 2023, with release dates of February 17 and May 5, respectively. The Fantastic 4 remake that's in the works was teased as well, with nothing more than a logo. Check out the video below to see everything Marvel has shared about the upcoming Phase 4 of the MCU!
The world may change and evolve. But the one thing that will never change, we're all part of one big family. pic.twitter.com/TUU5848QYR

— Marvel Studios (@MarvelStudios) May 3, 2021