True Love, Tested. Literally!
'Parks and Rec': Watch Amy Poehler and Rashida Jones Test Their Real-Life Friendship!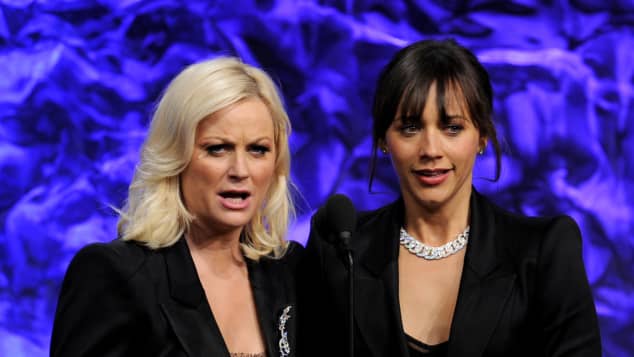 view gallery
(© Getty Images)
Former Parks and Recreation co-stars and real-life friends Rashida Jones and Amy Poehler are put to the test, a polygraph test. But will their friendship survive? 
Vanity Fair's popular Lie Detector segment has made it to Parks and Rec fandom. Rashida Jones and Amy Poehler have a very real friendship so the duo made sure not to pull any punches with this chance to get the truth out of each other.
Rashida Jones Grills Her Pal For Answers
Rashida asked the incredibly important and personal question... why didn't Amy invite Rashida to any wine tastings at her new wine shop? Dun dun dun! Amy admitted "I'm so sorry I didn't invite you, but I was afraid you were going to ruin it." The truth hurts sometimes.
RELATED CONTENT: Parks And Recreation Aubrey Plaza Pole Dancing Skills
Amy Poehler Strikes Back
Amy made sure to dig in with the hard hitting question all their fans need to know. Who would she choose between her fictional bosses, The Office's "Michael Scott" or Parks and Rec "Leslie Knope." The pressure of being hooked up to a lie detector test didn't seem to phase Rashida, she answered her BFF correctly by choosing "Leslie Knope."
As "Leslie Knope" would say "Ovaries before Brovaries."
Watch the full video here!