Perry King, Joe Penny and Thom Bray starred in this TV classic...
'Riptide': Where Is The Cast Today?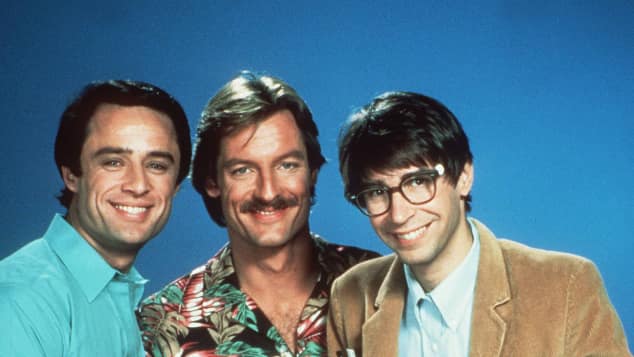 view gallery
(© imago / United Archives)
The main characters in Riptide were portrayed by the actors Perry King, Joe Penny and Thom Bray. In the series, the war veterans worked as detectives on their boat in King Harbor and solved numerous cases.
From 1983 to 1986, Perry King (70), Joe Penny (62) and Thom Bray (64) starred in the television series Riptide. They played the roles of the Vietnam War veterans "Cody Allen", "Nick Ryder" and "Murray 'Boz' Bozinsky".
These were the members of "Riptide Detective Agency"
The action series takes place in King Harbor in Redondo Beach, by the Californian coast south of Los Angeles. The former Army buddies Perry King alias "Cody Allen" and Joe Penny aka "Nick Ryder" run a detective agency with Thom Bray alias computer hacker "Murray 'Boz' Bozinsky". They operate out of "Cody's" boat, the "Riptide". Its inventory includes the speedboat "Ebbtide", a GMC Jimmy, a 1960 Chevrolet Corvette and the pink helicopter "Screaming Mimi".
The trio today
Perry King became famous for his role in the thriller Class of 1984. Since his most successful role as "Cody Allen", he has been part of numerous productions such as The Day After Tomorrow and Cold Case. In 2018, he starred in The Divide, which he also directed. Perry King has two daughters from two failed marriages.
After his role as "Nick Ryder", Joe Penny continued his success in the series Jake and the Fatman (1987 - 1992). However, he had his very first acting gig already in 1997 in The Nancy Drew Mysteries. His breakthrough came in 1981 with the series The Gangster Chronicles. So far, Penny has starred in more than 40 movie and TV productions such as The Sopranos or Threshold. In 2016, he featured in the movie The Last Night Drama.
Thom Bray had his first role in 1980 in Breaking Away. His film debut was in 1981 in Bloody Moon. The actor starred in several productions, such as Burglar in 1987 and the horror movies Deep Star Six and Prince of Darkness. Thom also works as dubbing artist and screenwriter. He is married and has three children.
The storyline of the TV-series is still relevant nowadays. Numerous productions such as Miss Marple or Sherlock Holmes prove that there is still a great deal of interest in detective stories today. Therefore, Riptide is an all-time classic!