She brings a 'Clone Wars' character to life...
'Star Wars': Rosario Dawson Joins 'The Mandalorian' For Season 2 - Find Out Her Role!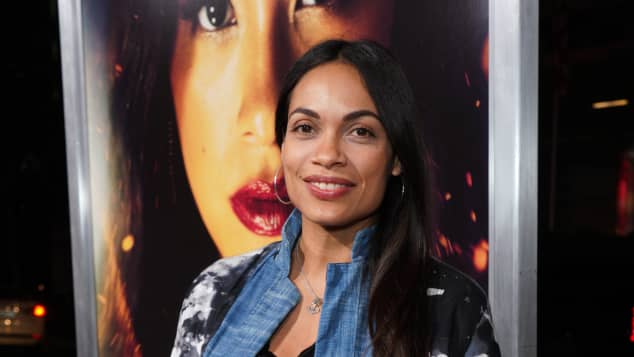 view gallery
(© Getty Images)
Rosario Dawson is on board for season 2 of The Mandalorian on Disney+. She's set to portray "Ahsoka Tano," the apprentice of "Anakin Skywalker." Learn more about the character below...
Rosario Dawson will portray the first live-action version of "Ahsoka Tano" in Star Wars: The Mandalorian. The character joins the Disney+ Star Wars series for season 2. "Ahsoka" had previously only appeared in the animated Star Wars: The Clone Wars series.
Star Wars: Rosario Dawson joins The Mandalorian
Star Wars Exclusive: 'The Mandalorian' Season 2 Casts Rosario Dawson as Ahsoka Tano https://t.co/PMxyRO3JfP pic.twitter.com/xfOqOOdXl1

— Peter Sciretta (@slashfilm) March 20, 2020
RELATED: 'Star Wars' Reveals New Details About The Parents of "Rey"
The Mandalorian season 1 was the first of several Star Wars series to debut on Disney+. An "Obi-Wan Kenobi" series with Ewan McGregor is in production, as is a "Cassian Andor" series. 
The Mandalorian was very well-received by Star Wars fans and critics. Its events take place in between the storylines of Star Wars: Return of the Jedi and Star Wars: The Force Awakens. The series also gained viral attention for its inclusion of a "Baby Yoda" character.
(© imago images / Prod.DB)
Rosario Dawson and Cory Booker are dating
Rosario Dawson plays "Ahsoka Tano" in The Mandalorian season 2. It's so far unknown precisely how the character's backstory will fit into the new season. She apprenticed under "Anakin Skywalker" in the events seen in The Clone Wars.
RELATED: Diego Luna Says His 'Star Wars: Rogue One' Prequel Will Shoot This Year
Dawson is known for roles in Sin City, Rent, Clerks II, and Death Proof. She's been in a relationship with politician Cory Booker since 2019. See Dawson's Star Wars universe debut when The Mandalorian season 2 debuts in October 2020.
(© Getty Images)