"I Think We're Alone Now"
'The Umbrella Academy': Behind the Scenes of the Dancing Montages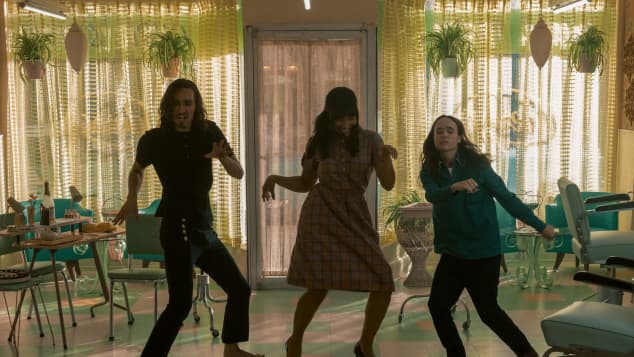 view gallery
(© CHRISTOS KALOHORIDIS/NETFLIX)
Even though The Umbrella Academy is choc-full of ludicrous scenes, the dance scenes are easily the fan-favorite. Some of the cast gave a little insight into how it worked and why their dance moves were all so different. Check out both the scenes and the cast's re-creation of them here!
One of the most memorable scenes of the first season of Netflix's The Umbrella Academy is the moment where each "Hargreeves" sibling is dancing to an iconic '80s one-hit-wonder song.
The Umbrella Academy's Dance Scene
The "Hargreeves" dysfunctional family has taken the world by storm and has become one of the most widely viewed shows streaming right now. They are always up to no good on The Umbrella Academy and get themselves involved in outrageous situations when trying to stop the apocalypse... that they caused... again.
One of the most beloved moments on the show is the dance scene from the first episode where each member is dancing in their own individual rooms and dancing in their own individually weird ways.
Showrunner Steve Blackman told Entertainment Tonight, "They think they're so different, but in that one moment, with that one song playing, they're all dancing. They think no one else is, but they're all doing the same thing, which is acceptance and being a part of a family again. If only they could just take a minute to tell each other! But they won't, and that's the fun of the show, seeing if maybe one day they'll figure it out and also possibly save the world."
Check out the iconic scene here!
It turns out that this was actually the first day of shooting for many of the main cast members including Robert Sheehan who played "Number 4 a.k.a. Klaus". When asked in a Netflix interview if it was awkward to be filmed dancing on your own Robert said, "It's hard to dance like no one's watching when everyone's watching."
Tom Hopper responded with, "You had it hardest because you were the first one to do it on your first day of shooting." Hilarious Robert said, "That was quite punishing, wasn't it? Dance like no one's watching and also meet all these new people you've never met before."
The Umbrella Academy Dance Scenes
Ellen Page who plays "Vanya a.k.a. Number Seven" gave credit to her beautiful choreographer wife Emma Portner for "Vanya's" subtle moves. Ellen told The Kelly Clarkson Show, "We've done videos, she's included me in her work and she is just so incredible at choreographing for non-dancers. She makes me look like I can dance."
Emma was even involved in the choreography in the romantic park dance scene between "Allison a.k.a. Number Three" and "Luther a.k.a. Number One"! Ellen said, "In the first season of The Umbrella Academy, she choreographed this beautiful dance scene, in the park with the lights, this very long dance and Tom hadn't danced that much before and she's just so fun and she's just so good at breaking all that down."
To announce season 2 of The Umbrella Academy, the whole cast got together via Zoom to recreate their iconic scene! Check out the creative bunch here!