"All marriages have their secrets"
Netflix's 'Rebecca': Watch The Trailer Starring Armie Hammer & Lily James!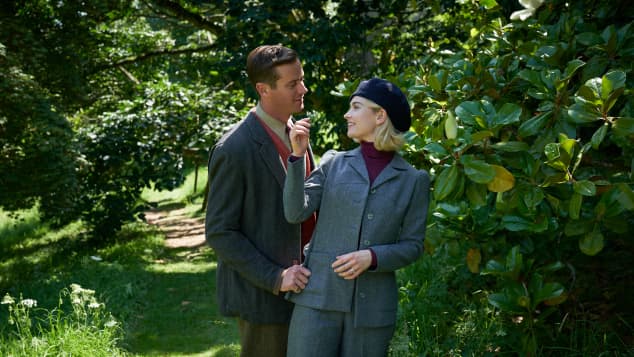 view gallery
(© Netflix / Kerry Brown)
Netflix has dropped the official trailer for its new Rebecca adaptation! The movie debuts on Oct. 21 and we now have a first preview of Armie Hammer, Lily James, and Kristin Scott Thomas in the film update of Daphne Du Maurier's 1938 gothic novel. Read on to watch the new trailer.
It's nearly time to return to Manderley once more.
On Sept. 8, Netflix released the first trailer for Rebecca, its 2020 adaptation of the 1938 novel by Daphne Du Maurier. Armie Hammer and Lily James take the lead roles in the new film, with Kristin Scott Thomas in the scene-stealing support role of "Mrs. Danvers."
Netflix's Rebecca: Watch the official trailer 
Famously adapted in 1940 by Alfred Hitchcock, Rebecca is the story of "Mrs. de Winter" (James), a newlywed tormented by the lasting presence and memories of her husband's deceased first wife, "Rebecca." 
Netflix calls the new film a "modern adaptation" of Du Maurier's gothic novel. Watch the trailer below.
On October 21, @NetflixFilm welcomes you to Manderley.

Here's your EXCLUSIVE look at Lily James, Armie Hammer, and Kristin Scott Thomas in Rebecca, the classic novel come to life. pic.twitter.com/ZiwKezKak6

— Twitter Movies (@TwitterMovies) September 8, 2020
Rebecca director says he's not remaking 1940 Hitchcock movie
British filmmaker Ben Wheatley is on record as saying the new film is not a direct remake of Hitchcock's 1940 Best Picture-winner of the same title. "It's not, in any sense, a remake of the Hitchcock film, firmly not," he told Empire.
"Remaking a film is not that interesting to me, but the original source material is. I watched all the adaptations," he added. "It's important to see what's gone before, but that's certainly not the focus."
(© Netflix / Kerry Brown)
If today's first look is any indicator, Wheatley and Netflix's Rebecca looks set to deliver a dark romantic drama with elements of supernatural/psychological horror — plus a finely-cast trio of stars. 
Watch Rebecca when it premieres on Netflix (ahead of Halloween) on Oct. 21.