Cardi B Teases Bernie Sanders During Quarantine Video Live Chat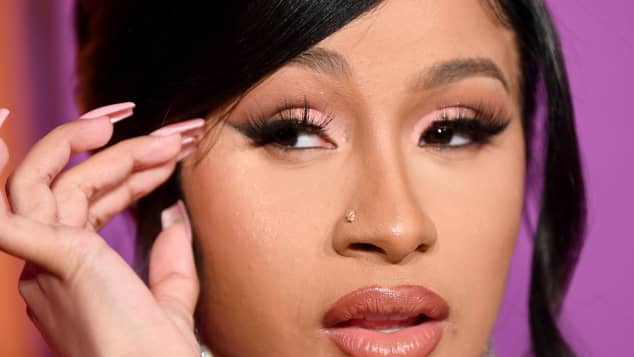 view gallery
(© Getty Images)
In a unique pairing, Cardi B and Bernie Sanders got together on a video live chat to discuss the upcoming election, and the current global state. 
Bernie Sanders and Cardi B's unique friendship
If you think of two unlikely friends, I'm sure Cardi B and Bernie Sanders might make that list!
Despite the interesting paring, the two are working side by side to express their hopes for the upcoming United States election.
RELATED: PUBLIC ENEMY DROP FLAVOR FLAV AFTER BERNIE SANDERS LETTER
The live chat shared Tuesday included talks of a Medicare plan, Sanders' endorsement of current Democrat candidate Joe Biden, and hilariously, the state of his nails.
Cardi B jokingly called the politician "Uncle Bernie" when he asked her to judge his manicure.
Just your average Tuesday, Uncle Bernie and Cardi B talking about nails. @BernieSanders @iamcardib pic.twitter.com/8myYzmMDzC

— Kishen. (@kishen619) April 15, 2020
"They're looking very quarantine," Cardi teased. "I can tell you've been in quarantine for a while now."
Cardi was always outspoken about her support of Sanders, and publicly expressed her disappointment when he withdrew from the race.
"When I announced that I was running for president, and there were like, 18 people running, what I said was, 'If I don't win — and I tried hard to win — I will endorse the Democrat who wins, because Donald Trump is, to my mind, the most dangerous president in the modern history of America," Sanders said.
RELATED: KANYE WEST TALKS WEARING MAGA HAT - "REMINDS ME HOW I FELT AS A BLACK GUY BEFORE I WAS FAMOUS"
"This is a guy who lies all the time," he explained. "He doesn't believe in science. He downplayed this whole Coronavirus, which has led to the deaths of many thousands of people, unnecessarily. He doesn't believe in the Constitution, he thinks he's above the law. This is a bad news guy that has got to be defeated," Sanders continued.
Bernie Sanders explains his choice of Joe Biden endorsement
Additionally, Sanders hopes to work with Biden in the future, and hopes that he will become "a more progressive candidate".
"What I want to see him stand for, which he will, is to raise the minimum wage to at least $15/hour, to make sure that all of our young people have the opportunity to go to college regardless of their income, to cancel student debt for a lot of people… He is moving in the right direction," Sanders added.
Bernie Sanders is currently on IG Live with Cardi B and he explains why he decided to endorse Joe Biden pic.twitter.com/JKbG58nktI

— The Cypher Podcast (@TheCypherPod) April 15, 2020
Earlier this year, Sanders and Cardi have sat down to discuss their ideas and hopes for the future of America, and Cardi also expressed her ideas of going back to school in hopes of becoming a politician. 
"I do feel like if I go back to school and focus up I can be part of Congress," she explained. "I deadass have so much ideas that make sense."
"I just need a couple of years of school and I can shake the table," she added.
I think I want to be a politician.I really love government even tho I don't agree with Goverment

— iamcardib (@iamcardib) January 12, 2020
I do feel like if I go back to school and focus up I can be part of Congress.I deadass have sooo much ideas that make sense.I just need a couple of years of school and I can shake the table .

— iamcardib (@iamcardib) January 13, 2020
Many other celebrities have shown their support for Sanders, and are now also sharing an endorsement for Biden since Sanders pulled from the race.