He is the second-best-selling British author!
Life Before Fame: British Chef Jamie Oliver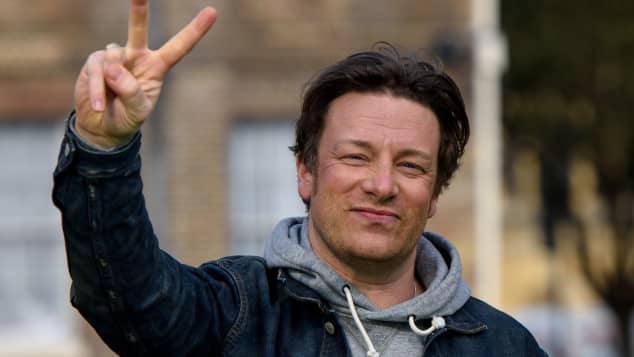 view gallery
(© Getty Images)
Jamie Oliver is a British celebrity chef best known for starring in several television shows and publishing more than 20 books. But what was his life like before being famous? It seems that the 45-year-old grew up in a family where cooking was a very important part of every day life!
British celebrity chef Jamie Oliver is best known for starring in several cooking shows like The Naked Chef from 1999 to 2001, Jamie's Kitchen in 2002, Jamie's 30 Minute Meals in 2010, Jamie's Super Food in 2015, and most recently Jamie's Meat-Free Meals/Jamie's Ultimate Veg in 2019, just to mention a few!
RELATED: Jamie Oliver Started A Cooking Show In Quarantine!
But the 45-year-old Essex native has also gained recognition due to his down to earth personality, and for publishing more than 20 books. His culinary skills gave him the opportunity to open several restaurants all over the world! But what did he do before appearing on television and finding fame?
What did celebrity chef Jamie Oliver do before being famous?
The British chef and television star grew up in a family where cooking was a very important part of every day life; their parents actually ran a restaurant called The Cricketers in the village of Clavering, south of Cambridge, where little Jamie was able to practice cooking in the kitchen. By the age of 11 he reportedly could cut vegetables as well as a professional chef.
But did you know that he actually studied Art and Geology? However, it seems that cooking was more important than that, and he left school at the age of 16. 
The rest is history: When Jamie Oliver decided to follow his passion for cooking, he got his first job as a pastry chef at the Neal Street restaurant, where he gained experience in Italian cuisine. Later on he decided to run his own collection of high street restaurants, Jamie's Italian, and a couple of years later Jamie moved to The River Café, Fulham, where he worked as a sous-chef, and it was in the late 1990's when he was noticed by the BBC and made his debut on television!
A couple of interesting facts about the Jamie's Kitchen star Jamie Oliver
He is the second-best-selling British author, behind J. K. Rowling (Harry Potter)
He has an impressive net worth of $300 million
In 2005, he initiated a campaign called "Feed Me Better" in order to promote healthy food habits in British schools
He might have starred in The Naked Chef, but he has actually turned down several offers by magazines to pose nude
Jamie Oliver is dyslexic and spent five years in special needs education when he was younger
Since 2000 he has been happily married to former model Juliette Norton and together they have four children: Poppy Honey Rosie Oliver, Daisy Boo Pamela Oliver, Petal Blossom Rainbow Oliver, and Buddy Bear Maurice Oliver
Now let's just forget what we are doing and enjoy some food pics:
You better not be hungry!