The popular Korean band is joining Carpool Karaoke!
K-Pop Boy Band BTS Will Appear On James Corden's Carpool Karaoke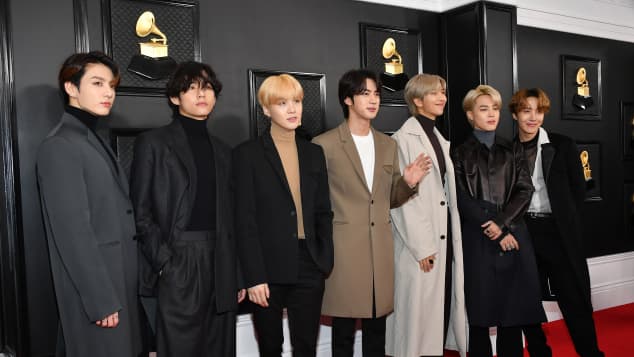 view gallery
(© Getty Images)
BTS, the South Korean boy band, will make a highly-anticipated appearance on the "Carpool Karaoke" segment of The Late Late Show with James Corden. The band appeared on the show in January 2020, but only now will they join the popular karaoke segment. Learn more below!
K-pop boy band BTS has an enormous global following that some suggest exceeds the popularity of a band like One Direction at its highpoint! The band has made notable appearances in the US at the 2020 Grammys and the 2020 New Year's Rockin' Eve at Times Square. 
BTS performed their new single, "Black Swan," on The Late Late Show with James Corden back in January. The band's huge fanbase - which is especially vocal on Twitter and social media - speculated that BTS would participate on the show's well-known "Carpool Karaoke" segment. They did not.
But host James Corden has now announced that BTS will return for the segment next week.
James Corden's Twitter announces BTS on Carpool Karaoke
#btscarpoolfeb25 x x x pic.twitter.com/1JDktRxgrA

— James Corden (@JKCorden) February 17, 2020
RELATED: Alicia Keys Reveals How Hard It Was To Host The 2020 Grammys
BTS will release new album before Carpool Karaoke
BTS's new album Map of the Soul: 7 comes out on February 21. The band will appear in the segment on The Late Late Show on February 25, so it's possible the band will perform new songs from the album with Corden.
The seven-member band debuted in 2013 with their album 2 Cool 4 Skool.
(© Getty Images)
CHECK THIS OUT: Lil Nas X Releases New Video For "Rodeo"
BTS members in North America
BTS performed at the 2020 Grammys with rapper Lil Nas X. They were the first K-pop group to perform in the history of the awards ceremony.
If you're unfamiliar with the group, check out their performance from late January on The Late Late Show with James Corden. They performed their song "Black Swan" from their upcoming new album. It was the song's first live TV performance.
BTS performs the song "Black Swan" on The Late Late Show
Catch BTS on James Corden's "Carpool Karaoke" segment next Tuesday, February 25.