He drives his Volkswagen every day!
'Top Gear's' Jeremy Clarkson: Where Is He Now?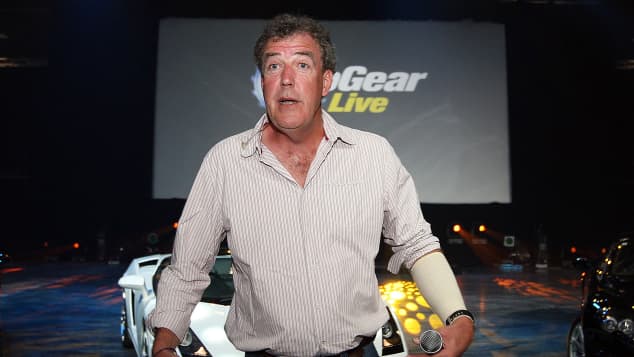 view gallery
(© Getty Images)
Jeremy Clarkson co-presented the BBC motoring television programme Top Gear for several years, but at some point, his contract was not renewed and he left the show. So, what has he been up to since then? It seems that the former Top Gear presenter had some other projects in mind!
Originally from Doncaster, England, and born in 1960, Jeremy Clarkson is a journalist, writer, and TV host better known for co-presenting the BBC motoring TV show Top Gear, alongside Richard Hammond and James May. 
The show became really popular and revolves around different cars and motor vehicles in general, and apart from focusing on reviewing their technical aspects, the programme was particularly appealing because of its motoring-based challenges, special races and competitions, and most of all because different celebrities were invited to participate in timed laps in every show.
Although Top Gear is still being broadcast, in 2015 BBC decided not to renew Clarkson's contract after an argument occurred while filming the show on location. So what has he been up to since then?
Jeremy Clarkson: Life after Top Gear
Some might consider Jeremy Clarkson as a bit of a character due to his sarcastic, outspoken and sometimes dark opinions in regards to media and politics, among other topics. His presenting style often provoked not only positive but negative public reactions.
That's why after his contract with BBC ended he decided that it was time for him to conceive his own motoring television show and that's how the 2016 programme The Grand Tour was launched.
Each episode of Clarkson's new project is hosted every week by himself as well as by his longtime friends and colleagues Richard Hammond and James May, showing that apparently, the trio is not willing to separate! The Grand Tour was exclusively released on Amazon Prime Video, and features a combination of live-audience segments and pre-recorded material about reviews of cars, races, and also celebrity timed laps.
And what about Top Gear Jeremy Clarkson's personal life?
The Top Gear star has been married twice and has three children. His first wife left him for one of his friends; the second bought him a Mercedes Benz as a Christmas present
He is a big fan of the progressive rock band Genesis and has been spotted at several concerts
He is allergic to cats, and to James May so he claims
He attended Margaret Thatcher's funeral
Every day he drives his Volkswagen Golf GTI