He has a beautiful family!
'Harry Potter': What Is Warwick Davis Up To Now?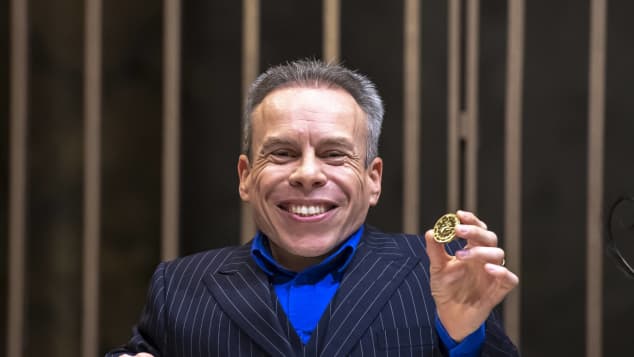 view gallery
(© IMAGO/ ZUMA Wire)
Warwick Davis in Harry Potter is one of the many film series the talented actor is known for. Warwick would get his start in the 1980s with Star Wars and has continued to rise to fame ever since. Here is everything you need to know about Harry Potter's Warwick Davis now.
Warwick Davis in Harry Potter would come late in the talented actor's career. Born February 3, 1970 in Surrey, England, Warwick was born with a very rare form of dwarfism called spondyloepiphyseal dysplasia congenita. 
Despite having suffered from a lot of pain most of his life, Warwick has not let his condition get the best of him and has used it to establish himself in Hollywood. The actor's first big role would come in 1983 as "Wicket the Ewok" in Star Wars' Return of the Jedi. 
Warwick Davis in Harry Potter
Warwick Davis in Harry Potter would first begin in 2001 when Davis appeared as "Professor Flitwick", a goblin bank teller, and as the voice of "Griphook" in Harry Potter and the Philosopher's Stone. 
Warwick Davis would continue to play the part of "Professor Flitwick" for the entire Harry Potter film series and also reprise the role of "Griphook" in the last two films of the series. 
Warwick Davis Now
Warwick Davis is now a face that is recognized all over Hollywood. The 51-year-old actor has starred in a number of films including: 
Willow (1988)
the Leprechaun film series (1993-2003)
The Hitchhiker's Guide to the Galaxy (2005)
The Chronicles of Narnia: Prince Caspian (2008)
and Maleficent: Mistress of Evil (2019).
Part of Warwick's success comes from his excellent support system, his wife of 30 years Samantha Davis and his two children, Annabelle and Harrison. Hollywood wouldn't be the same without him and we look forward to more to come from Harry Potter's Warwick Davis.