blink-182: Where Are Mark, Tom And Travis Now?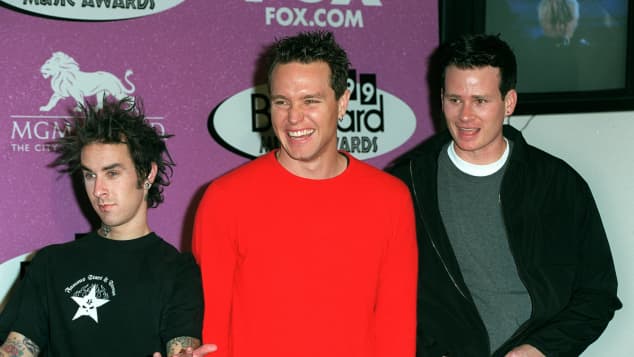 view gallery
(© imago images / Mary Evans)
If you grew up listening to some of blink-182's biggest tracks (as some of us did) then you most definitely know who Mark Hoppus, Travis Barker, and Tom DeLonge are. But do you know what they are up to now?
It's been over 20 years since the California-based punk rock band, blink-182 released their first album Cheshire Cat, in 1995, followed by Dude Ranch, Enema of the State, and Take Off Your Pants and Jacket, among others. Although there have been several blink-182 band members, some might argue Mark, Tom, and Travis, are THE members.
This is Mark Hoppus in 2020
Mark Allan Hoppus turned 49 years old in 2021 and is still playing with his band and its current members, Travis Barker and Matt Skiba. While he is best known for being one of the lead singers and bassist of blink-182, in 2019 he formed a new band called Simple Creatures and they released their first song, "Drug," the same year.
IN CASE YOU MISSED IT: Rock music star Beck - His career then and now
Since 2000 Mark has been married to Skye Everly, whom he met while shooting the video for blink-182's iconic song "All the Small Things." Maybe she left him roses by the stairs, surprises let him know she cares...
Have you seen Tom DeLonge lately?
Tom DeLonge is the former co-lead singer and guitarist of the band. While (sadly) he doesn't play with blink-182 anymore, he is well known for other successful music projects like Box Car Racer and Angels & Airwaves. In 2015 he also decided to pursue a career as a solo artist. Tom turned 45 years old in December, 2020.
RELATED: This is Donald Glover's musical alter ego
DeLonge was married to businesswoman Jennifer Jenkins from 2001 to 2019, with whom he had one of the best rockstar weddings ever, featuring rock band Jimmy Eat World as the main music act of the night!
What is Travis Barker doing today?
Travis Barker became the drummer of the band in 1998, after the original one, Scott Raynor, left blink-182 due to alcohol problems. Travis is also known for his career as a solo artist, as well as for a couple more music projects. Do the bands +44 or Transplants ring a bell?
IN CASE YOU MISSED IT: Punk music star Billie Joe Armstrong covers The Bangles with Susanna Hoffs
Travis, who will be 45 years old in 2021, got married for the first time in 2001 to Melissa Kennedy; then he tied the knot for the second time in 2004 with Shanna Moakler. In 2019 it was rumored he was dating KUWTK star Kourtney Kardashian but, according to People, he denied it and said: "I love her to death. I love her family to death. But yeah, just friends."
Facts only true blink-182 fans know