He has been making history!
Darius Rucker: His Career Then & Now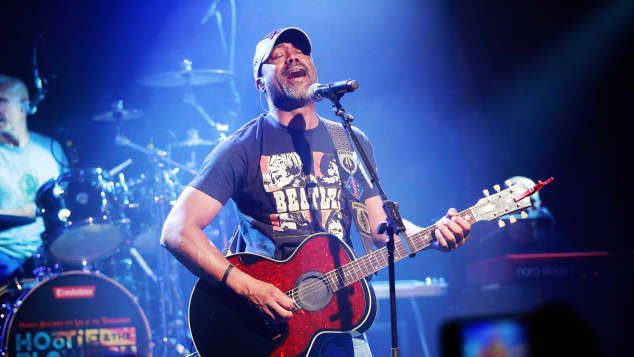 view gallery
(© Getty Images)
It is hard to believe Darius Rucker has been belting out hits since he founded Hootie & the Blowfish in 1986! The singer has proven to have one of the most versatile voices in the music industry, and in honor of the singer's May birthday, we are taking a look at his impressive career so far.
Darius Rucker was born May 13, 1966, in Charleston, South Carolina. While Darius grew up poor, he remembers his childhood fondly and always dreamt of becoming a singer as a young boy. 
While attending the University of South Carolina, Darius would meet fellow Hootie & the Blowfish members, Mark Bryan, Jim "Soni" Sonefeld, and Dean Felber. The idea of forming a band all started when Mark heard Darius singing in the shower one day, and it wouldn't take long for the duo to begin to perform covers at local venues. Jim and Dean were soon recruited, and the rest is history!
Darius Rucker and Hootie & the Blowfish
Darius Rucker and Hootie & the Blowfish would release their first studio album in 1994 titled Cracked Rear View. The band was instantly successful and has since recorded five more albums together, the most recent being 2019's Imperfect Circle.
IN CASE YOU MISSED IT: Eric Church: His Country Career Highlights
While Darius and Hootie & the Blowfish have shared 6 top 40 Billboard hits together, including "Hold My Hand" and "Let Her Cry", Rucker would become known for his stand out baritone voice, leading him to make a solo R&B debut in 2001, and eventually his country debut in 2008. 
Darius Rucker Today
Darius Rucker has since become one of the most successful African-American country music artists to date! With hit songs "Don't Think I Don't Think About It", "Alright", and "History in the Making", in 2009, Darius became the first singer since Wynonna Judd in 1992 to have his first three singles reach number 1 on the charts.
Darius has now released five country albums, and when he's not busy performing or working on new songs, he enjoys spending time with his wife of 21 years, Beth Leonard, and their three children, Daniella (20), Jack (16), and Darius Rucker's daughter Caroline (26) who he shares with his ex-girlfriend Elizabeth Phillips. You can catch Darius most recently staying busy making TikToks with his children and as a guest star on American Idol.