He has released a total of 5 albums!
Life Before Fame: Country Artist Thomas Rhett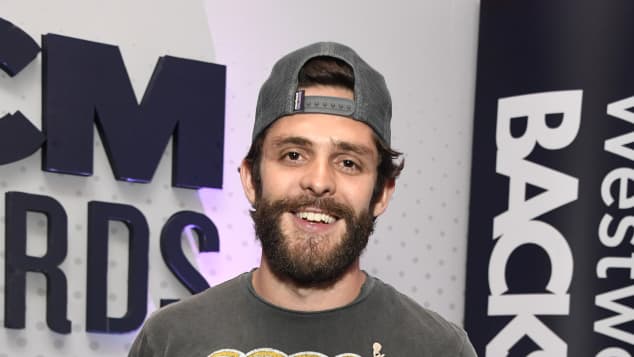 view gallery
(© Getty Images)
Thomas Rhett Akins Jr. rose to fame in 2013 with the release of his first album and has only soared from there. Having won numerous awards and paving the way for country musicians today, let's see what his life was like before he was in the spotlight. 
Thomas Rhett was born on March 30th, 1990 in Valdosta, Georgia. His father is the country singer Rhett Akins which meant that Thomas grew up around the country music scene and knew other famous artists like Tim McGraw and Brooks & Dunn from a very young age. Rhett learned to play the drums in junior high school and would actually go on stage and play with his father. 
Thomas Rhett Went to University
In high school, Thomas was a part of a band called The High Heeled Flip Flops and music was his career of choice at that point. He did however go to Lipscomb University in Nashville to study Communications.
His love and passion for music continued to grow and he ended up dropping out of college when he was 20 years old to pursue a career in music. We have to say, he made the right choice!
Thomas Rhett: Started as a songwriter 
Before Thomas Rhett made a name for himself as a performer, he was hired by Big Machine Records to write songs for other artists. He wrote hits for Jason Aldean, Lee Brice and Florida Georgia Line. In early 2012, Thomas released his own debut single titled "Something to Do with My Hands" followed by "Beer with Jesus". His debut album, It Goes Like This was released in October 2013 and he has continued to be successful since then. 
Facts About Thomas Rhett
He married Lauren Akins in 2012, who he's known since the first grade
Thomas and Lauren have three children
Thomas' daughter Willa Gray Akins was adopted from Uganda
Thomas won the Male Artist of the Year award in 2019 at the Academy of Country Music Awards
He has released a total of 5 albums
Thomas has headlined 3 tours. His most recent this year called the Very Hot Summer Tour