For your quarantine reading...
Spike Lee Shares Unmade Screenplay On Baseball Legend Jackie Robinson: "This Is a Great American Story"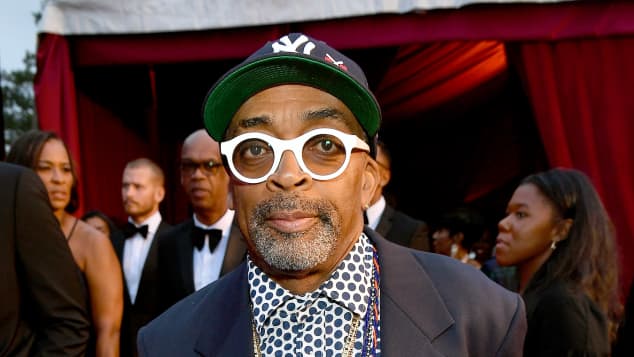 view gallery
(© Getty Images)
Spike Lee surprised movie, sports, and history fans on Sunday when he released the screenplay for his long-rumoured Jackie Robinson film. You can read it online today! Learn more below...
Filmmaker Spike Lee unveiled the screenplay for his "dream project," a film on the life of sports legend Jackie Robinson. Denzel Washington was to portray Robinson, who in 1947 broke the colour line in Major League Baseball (MLB). The film had its origins in the mid-90s after Lee and Washington had collaborated on Malcolm X. 
Spike Lee movies: His unmade Jackie Robinson film
Spike Lee: Oscar winner
Lee announced on Sunday the release of his unmade screenplay, in its fifth draft, on his Instagram account. You can read it in full here. He said part of the reason the film was never made was because Washington said "he was too old" to play Robinson.
RELATED: Tom Brady Will Join the Tampa Bay Buccaneers After Leaving the Patriots
But Lee wanted to share the script while everyone is at home during the coronavirus pandemic. "I pulled this script out of the vault and so, I'd like to share the script with you," he said in the video. "And also, don't worry about it if you don't like baseball or sports. This is a great American story."
RELATED: Arnold Schwarzenegger Postpones Sports Festival Due to Coronavirus
Jackie Robinson: the MLB legend was depicted in several films 
In 1947, Robinson became the first African American baseball player in the MLB. He was a star for the Brooklyn Dodgers for 10 seasons, which included a Rookie of the Year and World Series win. His #42 is retired league-wide. Jackie Robinson Day is celebrated annually on April 15, when every player in the MLB wears #42 in his memory.
Though Lee's film won't be made, Robinson's life was earlier dramatized in The Jackie Robinson Story, in which Robinson portrayed himself in 1950, and 42 in 2013. The poster for the 1950 film is seen behind Lee in his Instagram video.
Lee concluded the video by saying: "Hope you enjoy it. If you don't, that's alright too. It's never getting made, but I wanted to share this script with you. Be safe! Be safe! Social distancing! Peace."