Blake Shelton jokes about relationship
Blake Shelton Jokes That Being With Gwen Stefani For 4 Years Is More Shocking Than Being Named 'Sexiest Man Alive'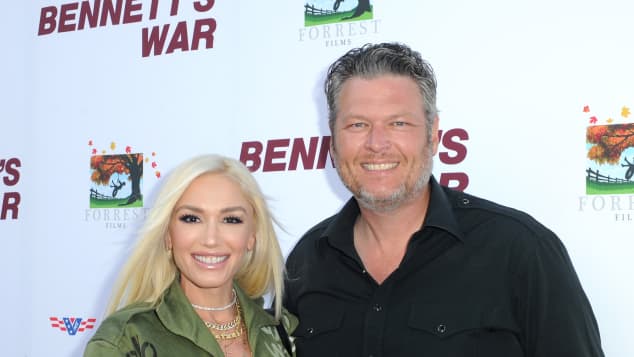 view gallery
(© Getty Images)
Blake Shelton was named People's 'sexiest man alive' - but what does he think about getting this title? He comments on this and his relationship with Gwen Stefani. Read this article to find out what he said.
Blake Shelton recently said to fellow country singer Martina McBride on her Vocal Point podcast: "If you thought the People Magazine cover was shocking, mine and Gwen's relationship is probably the biggest head-scratcher," he joked.
He also said during his cover story interview with People 2 years ago, on the topic of being chosen as 'the sexiest man alive': "Y'all must be running out of people."
(© Getty Images)
On how their relationship didn't blossom for a while, Shelton said on the podcast: "I'll even say that she was, of all the coaches, the least that I had gotten to know the first season she was on the show because she had just had a baby, and I mean just had a baby," he said. "And so any time there was downtime, she was busy. She was gone, she was on her trailers, she was taking care of the baby, you know, and there was never those moments that usually happen on this show, where at the end of the day we're sitting around out here at the couches and having a drink, talking, laughing."
By the second season of doing The Voice together he said: "A lot of life had happened and we'd been through a lot, and we bonded actually over that," hinting at their mutual divorces that year. 
Gwen Stefani's divorce
In August 2015, Gwen Stefani filed for divorce from her ex-husband Gavin Rossdale because of "irreconcilable differences."
"I'll go watch her show in Vegas because you got to remember I'm playing catch-up on Gwen Stefani," he says. "I knew who No Doubt was, and Gwen Stefani, but only the big hits, and then you go see her show in Las Vegas and you start going, 'Oh my God, that one too, that song. Oh that's you.' You know? And it's just a crazy… It gives me goosebumps talking about it because of the impact she had, especially as a female rock, ska, whatever you classify it, as just to have the impact that she has is pretty crazy."