A Stunning Maternity Look!
Katy Perry Shows Off What Would Have Been Her Met Gala 2020 Maternity Look - Spoiler Alert, It's Epic!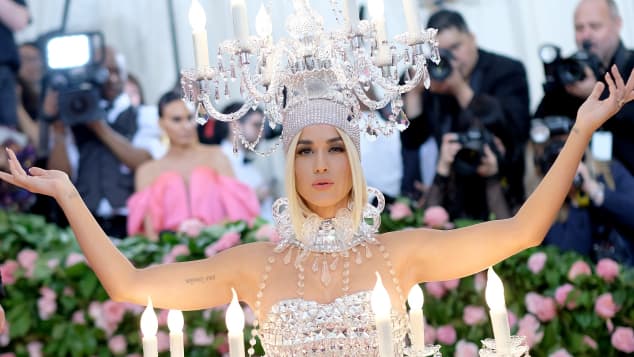 view gallery
(© Getty Images)
The first Monday of May always holds a special place in the entertainment industry, as Anna Wintour holds the infamous Met Gala. This year, however, the iconic event has been cancelled due to the global COVID-19 pandemic, but that doesn't mean Katy Perry won't show off her look!
An at-home Met Gala look!
The first Monday of May is a day many celebs look forward to, as Anna Wintour hosts the infamous Met Gala! Although the sad news of the cancellation was announced back in March, Katy Perry isn't letting her look go unknown!
The pregnant pop superstar posted to Instagram on Monday on what would have been an epic fashion moment. Perry showed off a snap of the look, which shows a Madonna inspired copper cone bra, that goes all the way down and around her glowing belly.
Perry, who is expecting her first child with fiancé Orlando Bloom, wasn't the only celeb sad and forlorn about the change in events.
DON'T MISS: KATY PERRY REVEALS HOW SHE AND TAYLOR SWIFT ENDED THEIR FEUD
Julia Roberts also posted her would-be look, showing a gorgeous black and white billowing gown. 
Her niece, Emma Roberts, also posted a pic of her look.
Anna Wintour addressed the absence of the Met, and posted a video to Vogue.
In the video, the editor-in-chief said, "Normally on the first Monday in May I would find myself on the steps of the Metropolitan Museum of Art, greeting the guests of the annual Costume Institute Gala. Instead, I find myself at home like most of you."
A LOOK BACK: THE MOST MEMORABLE 2019 MET GALA LOOKS
"This is a time of grief and of hardship for millions and the postponement of a party is nothing in comparison. And yet one thing that we have learned through this difficult time is that we need each other, that community is essential to who we are. If we are to come out of this pandemic stronger and more resilient, we must emerge from it connected as never before," she continued.