'The Queen's Gambit': What Anya Taylor-Joy Looks Like in Real Life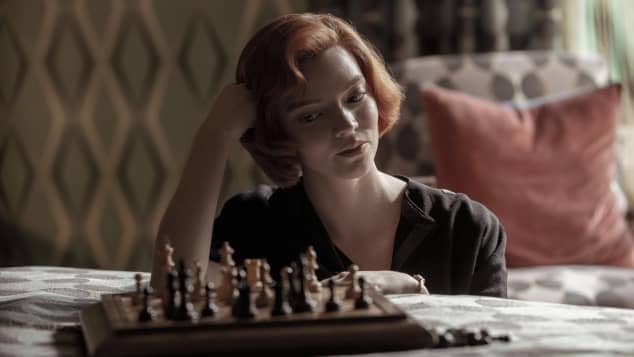 view gallery
(© imago images / Prod.DB)
The Queen's Gambit recently premiered on Netflix and has quickly emerged as a new streaming hit. Here, we're taking a closer look at lead actress Anya Taylor-Joy, who stars as "Beth Harmon" in the miniseries. This is everything you need to know about the actress and her life off-screen.
Short red hair and a ponytail: these are the trademarks of "Beth Harmon" in new Netflix miniseries The Queen's Gambit. Those traits, however, are far from actress Anya Taylor-Joy's natural appearance—so it's hardly surprising that she is barely recognizable in real life.
"Beth" in The Queen's Gambit: Actress Anya Taylor-Joy
Taylor-Joy is actually not a redhead at all, but a blonde. Her hair is not short either, but typically reaches far past shoulder-length. In The Queen's Gambit, she does, however, show off her doe-eyed look, which she's become known for as a horror and drama actress.
The Queen's Gambit is about orphan "Elizabeth Harmon," who grew up in 1950s Kentucky. At the orphanage, she discovers her passion for chess and wants to prove herself at the game, which at the time was dominated by men.
But in the home, "Beth" also became dependent on medication. This led to struggles on the one hand, but intensified her obsession with chess on the other hand. The story of the chess genius is told in a seven-episode miniseries, which premiered on Oct. 23.
Anya Taylor-Joy's career: Her movies and TV shows
For Anya Taylor-Joy, "Beth" is far from a breakout role, though it's now giving her wider exposure. In 2015, she had her international breakthrough with art-horror film The Witch. The actress then worked on projects such as Morgan, Thoroughbreds, and Split plus its sequel Glass.
In 2020 she was not only seen in The Queen's Gambit, but also as the heroine of the Jane Austen film adaptation of Emma. Anya has already been nominated for a BAFTA and won the Gotham Award for Best Young Actress for her memorable performance in The Witch.
The sky is the limit for this 25-year-old actress, who is next tapped to re-team with The Witch director Robert Eggers on The Northman—a Viking epic that will also see musician Björk return to acting.