Post Malone Wows With Nirvana Tribute Concert For COVID-19 Relief - Watch It Here!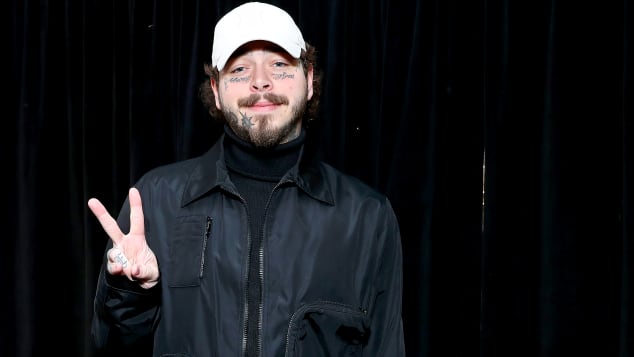 view gallery
(© Getty Images)
Post Malone delivered an electric concert of Nirvana covers on Friday night! The tribute was organized as a fundraiser for COVID-19 relief. Watch the performance and read how the set was received below.
Post Malone performed the tribute concert to the legendary rock band, Nirvana, this past Friday night. The livestream concert raised funds for the UN Foundation's COVID-19 Solidarity Response Fund for the WHO.
The 24-year-old musician's setlist of Nirvana covers was very well-received and the concert has raised over $4 million for coronavirus relief as of April 26. Google agreed to match twice the amount of money raised up to $5 million as well.
You can watch the at-home concert in full below.
RELATED: Post Malone Slammed for Playing Concert Amid COVID-19 Pandemic
Post Malone's Nirvana concert for COVID-19 relief
Post Malone was joined by Blink-182 drummer Travis Barker for the concert. The artist and his bassist are also seen wearing floral dresses during the performance, as Nirvana frontman Kurt Cobain was known to do on occasion.
The heavy 15-song setlist featured Nirvana classics including "Come As You Are," "Heart-Shaped Box," "About a Girl," and "Stay Away."
Nirvana released three studio albums between 1989 and 1993 before guitarist and lead vocalist Kurt Cobain died by suicide in 1994. Drummer Dave Grohl later formed the popular rock band Foo Fighters.
(© imago images / LFI)
RELATED: Courtney Love Shares Tribute to the Late Kurt Cobain
Nirvana figures respond to the performance
Nirvana bassist Krist Novoselic was a fan of the concert, live-tweeting words of praise throughout the set.
I don't think these fellows can play any better. They are on fire!!!!

— Krist Novoselić (@KristNovoselic) April 24, 2020
Cobain's widow, Courtney Love, also conveyed her support on Instagram, saying "GOOSEBUMPS! F--- YES. Go have a margarita @postmalone. nothing but love from here."
At one point the live concert had over 250,000 viewers, and it trended as one of the top videos on YouTube over the weekend.
Post Malone's fundraiser has a goal to reach $7.5 million in donations, and it's well on its way there already. The donation link is available on YouTube's stream of the concert.